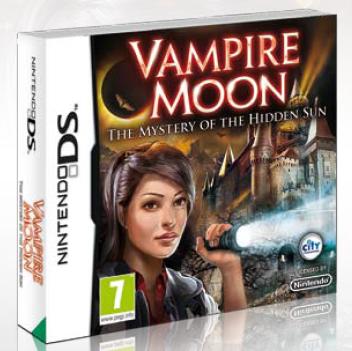 Developer City Interactive have now announced a brand new title that will be releasing soon on the Nintendo DS. Vampire Moon is a new hidden object mystery game that will let players control news reporter Emily Davis as she tries to find out why and inexplicable, ongoing solar eclipse
is plaguing Transylvania. As researchers and other civilians begin to disappear, you must uncover hundreds of skillfully hidden objects and decipher the clues behind the eclipse.
Here is just a little bit of what you can expect to see in Vampire Moon:
Beautiful, atmospheric locations that heighten the sense of mystery
Endless replay value thanks to a system of random item placement
A variety of mini-games offer clues to solving the mystery

While this title looks unique on it's own, I think the endless replay value that is promised might make it even more of a great mystery title to watch for. Vampire Moon releases on October 5th in the U.S. and October 8th in Europe. Check out these brand new screen shots below.