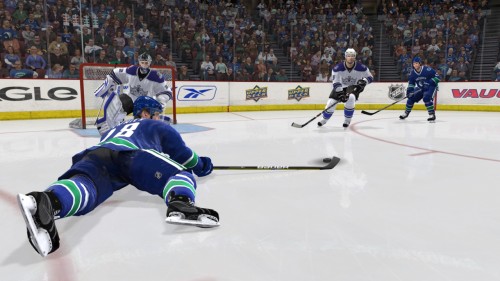 NHL 11 was just released on September 7, 2010.  What is different in this years game? Lets find out.
The Canadian Hockey League (CHL) has entered into a four year agreement with EA to feature their three regional leagues:Western Hockey League (WHL), the Ontario Hockey League (OHL) and the Quebec Major Junior Hockey League (QMJHL.)  60 teams are included in the CHL integration.  It will also feature likenesses of players, logos, jerseys and names from the CHL.   Finally, the Mastercard Memorial Cup will also will be playable.  These improvements will be available in Be a Pro mode, Tournament mode and a variety of other modes.
More than 200 gameplay enhancements will be injected into the series. These enhancements include a new face off system, quick dekes and hip checks.
A new real time physics engine puts real world puck and player physics into the game.  The new "Broken Sticks" feature makes it so that no play will die.  The player will be able to kick the puck to a teammate or have a teammate pass a stick to him.
The game looks to be fun, and I can't wait to try it.