Developers of the hugely popular Trials HD, RedLynx, have now announced their newest project that will be headed to the WiiWare download service, MotoHeroz. MotoHeroz is a platforming/racing game with a single player adventure and a 2 to 4 player local multi-player mode. Players can also expect to see a new type of daily online competition, in which a new online track opens up daily to give you constant new opportunities for the top of the Leader Boards.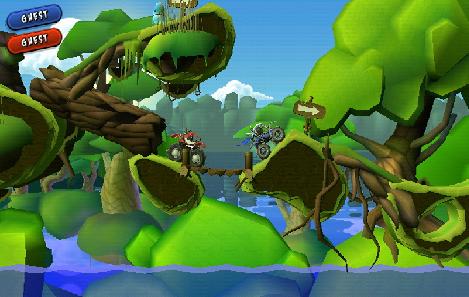 Players race, chase, and rally their way through a rich, challenging world, competing against their friends for the fastest times, entering daily races, and hunting for secrets and coins.
"With this game, we are taking our expertise in downloadable content, addictive gameplay, and the racing genre, and adapting it to the strengths of the Wii," said Antti Ilvessuo, Creative Director of RedLynx. "The result is a unique, appealing game that combines racing game thrills with platformer charm," he added.
Features Include:
Simple but effective physics deliver an addictive gaming experience
Single player story mode with memorable characters and rich visuals
Four-player party mode that's easy for anyone to pick up and play
Ghost race against any player's time on any track in the game
Global and Friend-based Leader Boards to fuel your competitive fires
Brand new kind of daily online competition, where new tracks and Leader Boards are opened and closed each day
Steady 60 FPS, widescreen support, and blazing fast load times
Packed with content, including 100+ tracks and three game modes
"We're thrilled to be working with Nintendo on this project," said Tero Virtala, CEO of RedLynx. "With a game like MotoHeroz, we are expanding the number of retail quality releases we are delivering to online marketplaces."
Trials HD has now sold over 1 Million downloads on the Xbox Live Marketplace and with RedLynx backing MotoHeroz, I think Nintendo owners should be quite pleased to see this brand new title headed to the WiiWare. Not date has been given on release as of yet due to the game still being in development but it is looking like RedLynx is aiming for an early 2011 release of this unique side-scrolling racing adventure. We will be sure to bring you more on MotoHeroz as it releases.