Rockstar has announced the list of achievements and trophies available in their new DLC "Liars and Cheaters."  They have responded to the request for many of the new modes including:  multi-player poker, Liar's Dice and multi-player horse races.  Additionally, there are added gang hideouts and hunting grounds. Lastly, there is an original Stronghold Competitive Multi-player mode.   The Xbox 360 DLC will have 5 exclusive achievements, because PS3 trophies are capped at 10 for DLC.  The DLC is set to release on September 21, 2010 for 800 MS points and 15.95 on PSN.  Without further ado, lets run down the list: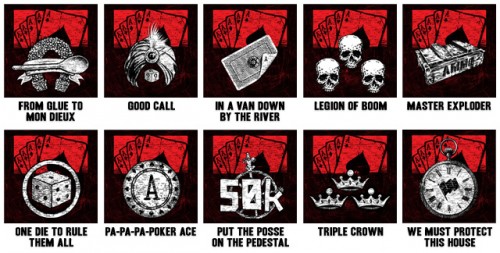 FROM GLUE TO MON DIEUX!
During a Grand Prix, finish a race in first after placing last in the previous race.
GOOD CALL
In a single Multiplayer Liar's Dice game, successfully make a spot-on call.
IN A VAN DOWN BY THE RIVER
In a Multiplayer Poker game, win a hand on the last card when you were losing prior.
LEGION OF BOOM
Get a triple kill while on the attacking team in Stronghold.
MASTER EXPLODER
Complete the Explosive Rifle Single Player Challenge.
ONE DIE TO RULE THEM ALL
In a Multiplayer Liar's Dice game, win with only one die left.
PA-PA-PA-POKER ACE
In a full Multiplayer Poker game, beat the table when blinds are at maximum.
PUT THE POSSE ON THE PEDESTAL
Attain over 50,000 posse points in a single Free Roam session.
TRIPLE CROWN
Get first place In all Races In a Grand Prix In the Races playlist.
WE MUST PROTECT THIS HOUSE!
While on defense, do not allow the attacking team to capture any of their objectives.
These next achievements are exclusive to Xbox 360:

AVATAR OF DEATH
Successfully complete either round of a Stronghold map without dying.
COMPULSIVE LIAR
In a full Multiplayer Liar's Dice game, win without losing a single die.
OVER 9001
Attain over 9,001 points in a single Free Roam session.
PEACEWALKER
Finish a single race without getting shot or killed, and without shooting a bullet.
THE BIG BLUFF
In a Multiplayer Poker game, win a hand by forcing someone with a better hand to fold.
In conclusion, there is a new video detailing the brand new gun and modes. Enjoy and thanks to Game Trailers for the video.