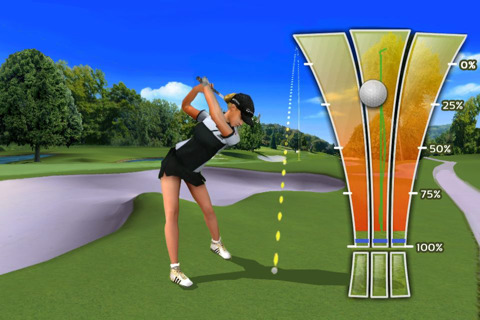 For all of the iPhone owners out there that want to have a great golf experience anywhere can now look no further! Developer Gameloft's Real Golf 2011 is now available in the iTunes store at a cool price of $6.99. For those curious of what is featured and improved since the last Real Golf game, here are a list of features:
Ten of the world's best golfers are ready to face off against you: Anthony Kim, Natalie Gulbis, Sergio Garcia and many more.
Ten real golf courses fully recreated in 3D: Bethpage, Evian, Harbour Town and many more.
Two types of controls: An intuitive touch-based control scheme, or classic controls for easy pick-up-and-playability.
Motion capture technology and dynamic lighting effects make every character and course look authentic. Make your own legend in Career mode by winning tournaments. Then upgrade your golfer with new gear as you watch your world rank rise.
Compete against other players from around the world online or challenge your friends to a fun match online or locally (Wi-Fi or Bluetooth).
Wifi enabled multi-player and many of familiar faces join the ranks on the green in one of this years most promising sports titles in the apple store.
For an even better look at what Real Golf 2011 has to offer watch the trailer below. You can also check out the official website or the Apple App Store where you can instantly download and get your golfing fix on the go!