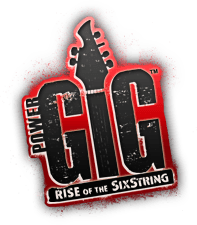 One of the main complaints when it comes to the likes or Guitar Hero and Rock Band, is that you don't learn anything from all the time put in. All these hours wasted learning an irrelevant plastic instrument. It's also irritating for those who can play the guitar who try these games yet have no advantage from their experience of playing a real guitar. Someone who stays inside flicking a strum bar for 8 hours a day shouldn't be able to beat a rock legend like Slash or Tom Morello.
Well, gone is this dilemma as of the release of Power Gig in October, in which (as much guitar players have asked for), you will control the game with a real guitar controller. This is a huge step forward in the band simulation games market, and depending on the final output, could be a huge triumph. Now, Seven45 Studios have revealed the full track list for the final game.  As you can see from the list, it's a fairly diverse line-up, although full of quality. For 80% of the songs, it will be their band game debut.
The full track list follows:
Eric Clapton – Layla
Eric Clapton – Lay Down Sally
Eric Clapton – Let It Rain
Dave Matthews Band – Funny The Way It Is
Dave Matthews Band – Tripping Billies
Dave Matthews Band – Why I Am
Kid Rock – All Summer Long
Kid Rock – Rock 'N' Roll Jesus
Kid Rock – Son of Detroit
John Mayer – No Such Thing
Jane's Addiction – Been Caught Stealing
No Doubt – Platinum Blonde Life
Ozzy Osbourne – A.V.H.
Queens of the Stone Age – You Think I Ain't Worth a Dollar, But I Feel Like a Millionaire
Smashing Pumpkins – Cherub Rock
Disturbed – The Night
Rage Against the Machine – Bombtrack
Stevie Ray Vaughan – Couldn't Stand The Weather
Black Sabbath – The Devil Cried
Stone Temple Pilots – Plush
Living Colour – Cult of Personality
John Mayer – Who Do You Think I Was
Snow Patrol – Hands Open
Three Days Grace – Break
Paramore – Ignorance
Silversun Pickups – Substitution
The Offspring – You're Gonna Go Far Kid
The Black Label Society – Retribution
Breaking Benjamin – Breath
The Tragically Hip – New Orleans Is Sinking
The Used – Blood on My Hands
Mastodon – Crack the Skye
A Perfect Circle – The Hollow
Buckcherry – Tired of You
Firewind – Head Up High
The Black Keys – Strange Times
Flyleaf – Again
Godsmack – Awake
Incubus – Wish You Were Here
Jet – She's A Genius
The Hives – Tick Tick Boom
John Mayer – Crossroads
Bad Religion – I Want to Conquer the World
Korn – Hold On
The Academy Is… – His Girl Friday
Lacuna Coil – Spellbound
MuteMath – Chaos
New Found Glory – Listen to Your Friends
P.O.D. – Alive
Puddle of Mudd – Blurry
Rise Against – Paper Wings
Sick Puppies – You're Going Down
The Donnas – Fall Behind Me
The Get Up Kids – Martyr Me
Idlewild – Reader and Writers
Surfer Blood – Swim
Channels – Chivaree
Superdrag – Aspartame
Envy on the Coast – Headfirst in the River
Damiera – Silvertongue
A Cursive Memory – Everything
The Hounds Below – She's Alchemy
A Love Like PI – Innocent Man
The Willowz – I Know
I See Stars – Comfortably Confused
The Paris Riots – Hotel of Infidels
School Boy Humor – Camera Shy
So Many Dynamos – Artifacts of Sound
Taxpayer – When You When Young
The Fatal Flaw – Don't Start Believing
Power Gig: Rise of the Sixstring will release in October (including a unique real guitar peripheral), for Xbox 360 and PS3.