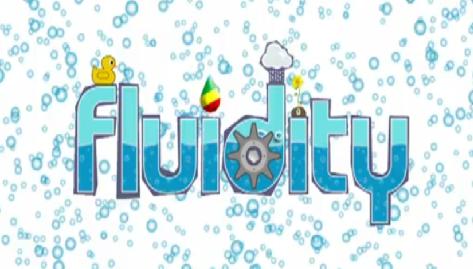 In the past few years, there truly has been an explosion of puzzle games in the gaming market. Many games have came out and really pushed the genre to the edge of innovation while others stuck to the classic brick destroying formula. Nintendo will soon be releasing a brand new title for the WiiWare download service that is sure to be a title that will be bringing something completely fresh to the genre, a game by the name of Fluidity. Here is a bit of information about this brand new puzzle title:
Nintendo's Fluidity combines an amazing physics engine that realistically models flowing water with innovative puzzle game play. Using the three forms of water – liquid, ice and cloud – players will solve challenging puzzles across multiple chapters of an illustrated magical book called Aquaticus. The game offers detailed tutorials that introduce basic game mechanics, but the complexity quickly ramps up as special powers are acquired and enemies are introduced, testing players' reflexes and ingenuity
When it comes to first party titles, Nintendo is known for bringing top shelf production into their work which is why Fluidity will be a WiiWare game to keep an eye on. Nintendo has also recently released a trailer on how the game works. To me it seems a bit like the Loco Roco series but with liquid and some platforming mixed in which is a good thing. I am also very curious to see how motion controls play out based on the gameplay shown so far. Fluidity is currently not dated yet but I expect to see more information come forward soon. Take a look at the trailer below and we will be bringing our readers updates as they are released.