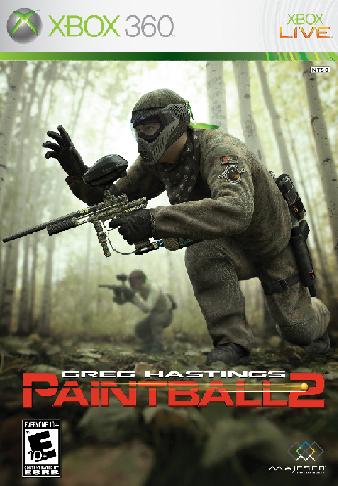 When you think of a paintball video game, the first name that comes to mind is Greg Hastings. Since arriving to consoles in 2004, the series has maintained success and that looks to continue with Majesco's brand new title, Greg Hastings Paintball 2. With this newest entry, you and 20 friends together for fast-paced multiplayer action, test your skills in brand new scenario modes, manage a team of skilled players, and master a range of markers in the most realistic paintball videogame to date.
Not only will players get a great price of just $39.99, inside each new copy is a paintball bonus pass, valued at $300.00, which is good for a FREE pass and rental for two players at select paintball fields all across the U.S.

The most successful name in paintball – Greg Hastings – brings a truly realistic paintball experience to Xbox 360, PlayStation and Wii as players navigate through 62 real paintball locations, face more than 1,000 real players and combat opponents with real guns and gear. Greg's 23 years of passion for the game explodes in this new first person shooter game as players experience fast-paced multi-player action, manage a team of skilled paint ballers and master a variety of new weapons!
Greg is currently promoting the game through a cross country tour where fans can play paintball with him, get autographed swag, demo and pre-order his new game. Check the tour schedule below and join him at your local field to see what all the buzz is about.
September 18 & 19 at Pev's Big Game in Aldie, VA
September 25 at Tippmann Tent in Pinckney, MI
October 16 at The Untouchables Scenarios in Upton, MA
November 13 & 14 in Charleston, SC
We also have some brand new screenshots below you can check out and for more information on Greg Hasting's Tour, check out http://www.gregredhastings.com/tour/.Greg Hastings Paintball 2 Releases September 28th for the Xbox 360 & Nintendo Wii. You can also pre-order at GameStop to receive exclusive access to World famous paintball pro Rocky Cagnoni and the Gold-Plated Tippman M98 Custom gun.
With all of the content at a great price, this could be one of the best deals this year for paintball lovers of all ages. Keep checking back as we will bring you even more information on this awesome new title!