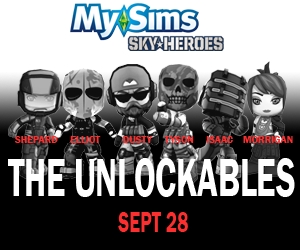 EA has released MySims SkyHeroes. It is an aerial action game, complete with customizable characters and online multiplayer.  Available now for the Xbox 360, PS3, Nintendo DS and Nintendo Wii, MySims features 42 missions in a single player campaign, plus 2 online or offline multiplayer modes: Dogfight and Race.  By defeating enemies, players can unlock specialized weapons and plane parts.  Some of these upgrades include giant lasers and wings that make your plane go faster.  Even pilots can be customized in MySims.  Branching story lines are also a key part of the game.  Players can break off an engagement with a boss battle to rescue other players and bring them into the fight.  Eventually, gamers must confront Morbus, an enemy intent on ruling the air.
Scott Evans, General Manager of the The Sims Studio, said, "MySims SkyHeroes strikes the right balance for players of all skill levels with three levels of difficulty, making it an ideal game for everyone from fathers and sons to play together, to hardcore gaming fans looking for high-speed aerial maneuvers, boss battles and multiplayer action.  This makes the game a must-have for any gamer this holiday season, especially as the MySims franchise expands to new platforms to bring even more fans into the fold."
Purchase the Nintendo DS version for $29.95 and the other versions for $49.95.  MySims SkyHeroes is rated E10.  If the screenshots and videos are any indication, this may be a very funny game. Take a look for yourself.
Link to another MySims Video here.