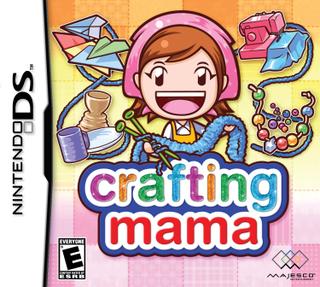 "Mama" got her start on the Nintendo DS and on October 26th, she will be back on the handheld yet again for the brand new title, Crafting Mama. Majesco has also officially launched the official website and facebook page which both will be fully interactive for what looks to be a great title for this holiday season.
Here is the official announcement from Majesco:
Crafting Mama features 40 different projects across a range of crafts: from jewelry, scarves, and candles, to kaleidoscopes, birdhouses, and even mini Mama dolls! The stylus becomes a universal crafting tool as crafters sew, mold, glue, cut, hammer and paint under Mama's masterful direction. Then, players can take their finished creations to play a variety of mini-games or update Mama with a new look! There is even multiplayer to play against up to 3 friends.
The website features never before seen screenshots, wallpapers, the official trailer and the actual in-game, step-by-step instructions to create Mama out of origami. Fans should keep checking back for more homemade crafting projects, exclusive assets, and special promotions.
Mama is also excited that fans can now send adorable crafting gifts to friends on Facebook using the new Crafting Mama Virtual Gift application! Crafts from the actual game like a candle, balloon art, felt doll, necklace, and so many more fun gifts can be easily sent to friends via Facebook and they will show up on their wall for everyone to see and enjoy.

With all of the releases this fall being targeted to the veteran gamers out there, Crafting Mama looks to be the perfect game for gamers young and old or anyone with that creative quality who want a charming crafting experience on the go.
Check out the Official Website and Facebook to get more updates and even some great hand made crafts to complete. All of the features on these pages alone should be a great way to get the younger gamers in the household involved and you might even learn how to make some home made masterpieces yourself.
Also make sure to check out the official trailer and a load of new cheerful screenshots below!