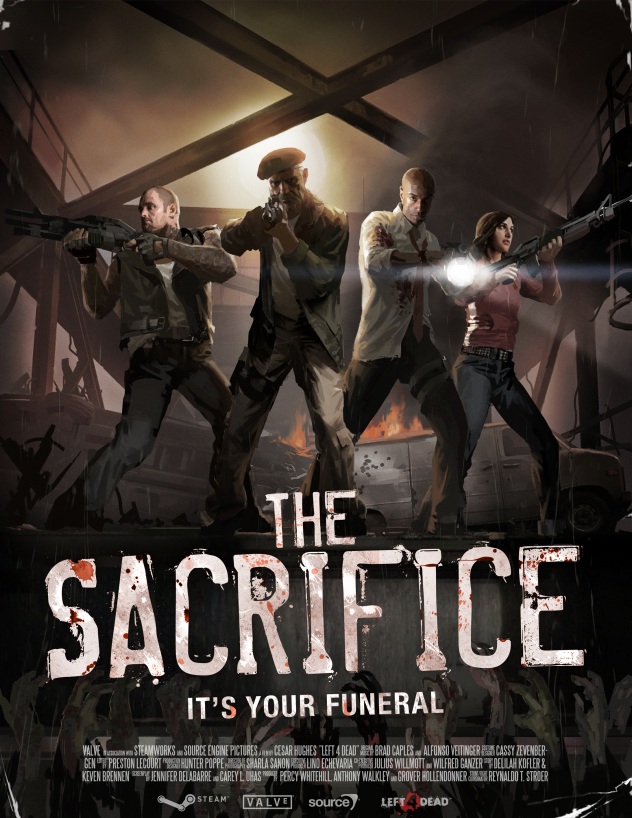 Left 4 Dead and Left 4 Dead 2 has new DLC coming out called "The Sacrifice". Many of you already know this little detail, but let me share all the information that I've managed to dig up so far on the DLC.
The price is set for 560MSP for each DLC, and will be releasing October 5th. I say each of the DLC because according to Valve reps and numerous sites, Valve is actually releasing two DLC all based around "The Sacrifice" Campaign.
In the Left 4 Dead 1 version, you'll get the full "The Sacrifice" campaign with maps playable in Campaign, Versus and Survival.
In the Left 4 Dead 2 version  you can play through "The Sacrifice" campaign with the original Left 4 Dead survivors. This DLC version also gives you L4D's No Mercy campaign for Left 4 Dead 2.  "The Sacrifice" and "No Mercy" are playable in Left 4 Dead 2's Campaign, Versus, Survival and Scavenge modes; they also feature L4D2's Special Infected, items and weapons.
Clearly the Left 4 Dead 2 version will be a better deal, but Valve felt like the people who didn't switch over to the sequel needed some loving too, and that's the reason for two seperate DLC. Both DLC will cost 560MSP each, and according to a rep both will have achievements for the game you purchase the DLC for. Of course, you could buy the DLC for both games and get double the achievements.
One of the most notable features about this new DLC is the  introduction of a new 'sacrificial gameplay' finale. This finale finally places the power to decide who lives and dies in your hands. "Louis! Here are your pills, now die!"