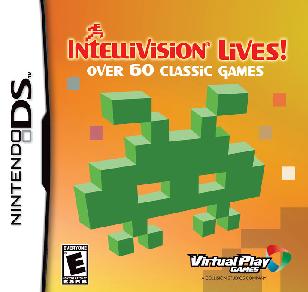 Big news today for those looking for a solid date and a full list of what games to expect on Virtual Play's Intellivision Lives for the Nintendo DS. Over at Gamestop.com, you can now pre-order the compilation which will release on October 15th. Want better news?All customers that pre-order with Gamestop/EB games can pick up Intellivision Lives! for just $14.99! This might be one of the greatest deals on the DS this year and you really can't beat that price with all of the quality titles included.
Here is a full list of titles for Intellivision Lives!:
SPACE
Astrosmash
Space Armada
Space Battle
Space Hawk
Space Spartans
Star Strike
ARCADE
Blow Out
Brickout
Buzz Bombers
Frog Bog
Hard Hat
Hover Force
Night Stalker
Pinball
Shark! Shark!
Sharp Shot
Snafu
Space Cadet
Thin Ice
Thunder Castle
Vectron
BATTLE
Armor Battle
Bomb Squad
B-17 Bomber
Crown of Kings
Minotaur
Sea Battle
Sub Hunt
Tower of Doom
GAMING
Checkers
Las Vegas Poker & Blackjack
Las Vegas Roulette
Learning Fun 1 & 2
Reversi
Royal Dealer
Takeover
SPORTS
Auto Racing
Baseball
Basketball
Body Slam: Super Pro Wrestling
Bowling
Boxing
Chip Shot: Super Pro Golf
Deep Pockets: Super Pro Pool & Billiards
Football
Hockey
Horse Racing
MotoCross
Mountain Madness: Super Pro Skiing
Skiing
Slam Dunk: Super Pro Basketball
Slap Shot: Super Pro Hockey
Spiker: Super Pro Volleyball
Stadium Mud Buggies
Super Pro Decathalon
Super Pro Football
World Championship Baseball
As you might have noticed from our previous coverage on the game, I really think this will be one of my most anticipated titles this year and with the low price and game list that will be sure to give gamers a special nostalgic reunion with the classic console, pre-ordering should be a no brainer! Keep checking back soon as we will continue coverage of Intellivision Lives! up until release.