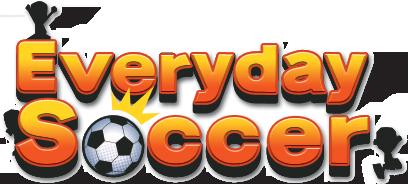 Soccer or "football" as many people out of the U.S. call is one of the most loved sports in the world and has always made its transition into the video game world nicely. I think one thing that makes the sport so popular among consoles is that it has always been an easy and fun sport to play on consoles dating back to Nintendo World Cut on the NES. Aksys Games have now released an easy to play version of their take on soccer to the DSiWare shop, the appropriately titled "Everyday Soccer". Everyday Soccer is a fun and simple soccer game where players can fully customize their characters and compete in free play mode or the World Tournament. Players can control all four characters on the screen by passing, dashing, shooting and executing special attacks.
"Soccer is one of those fun sports that anyone can get into," says Frank "Bo" deWindt II, Associate Producer, Aksys Games, "Adults and children alike can easily pick up and play Everyday Soccer for some fun soccer action!"
Features Include:
30+ Teams to Choose From!

Pick from over 30 different countries to play as, including Germany, Chile, South Africa, Japan and many more!

Customize Your Players!

Change your players' names and their appearances from eyes color to hair style and use those players in the Exhibition and World Tournament!

Multi-play and DS Download Play!

Play against a friend who has the game or have them play with DS Download Play!
This little soccer title looks to be easy to pick up and play for anyone wanting a quick, fun burst of soccer on the go and with the extra customizable options the game looks to have depth added to hold over the hardcore fans out there. Everyday Soccer is now available on the DsiWare Shop for just 500 DSiWare Points. You can also check out these new screenshots below and check out http://www.aksysgames.com/ for more information.