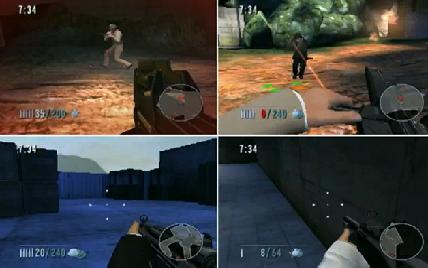 Activision's Goldeneye 007 is looking better and better each day. Today a new video showing off some of the classic modes and mods that will be in the new remake was released. In the video we now have confirmation that mods such as Singularity, paintball, big-hand mode and many more will all be back as well as up to 200 different multi-player game types that can be created with these combinations in play.
A list of all modes and mods shown in the video for those who don't catch all of them in the fast moving trailer are:
Melee Only
Paintball
Singularity
Nick Nack
Big Hand Mode
Time Limit
Score Limit
Radar
Radar Dots Always Visable
Hot Shot
Invisibility
Tag
Move Your Feet
Revenge
Sticky Grenades
Rubber Grenades
There are of course even more modes and game types that have already been announced as that list is just for what was in this video such as man with the golden gun and a few more returning modes. I think we could have quite the contender this year with Goldeneye and I am very excited to try it out. Check out the new video below and drool over some classic nostalgic footage of al of this and don't forget that Goldeneye 007 will be releasing for the Wii on November 16th.