As you all may or may not be aware of, there was a press conference from Nintendo earlier today, revealing many games and details about their newest handheld, the 3DS.  Not only was there a handful of games announced and teased, but also the release date and price was finally revealed.  February 26th in Japan (March for US and EU) costing ¥25,000 (roughly the Japanese equivalent of $300).  This is so far the most expensive handheld in the history of Nintendo, costing about as much as a Wii.  This should come as no surprise, as analysts and rumors have been toting this price tag for months now.  However, what wasn't expected was the after-Christmas release date.  Many were expecting (naturally) that this would be in stores in time for the holidays, essentially capitalizing on the holiday rush that the games industry seems to love so much.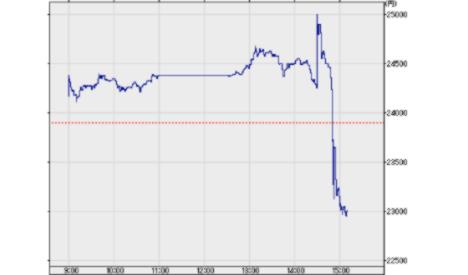 In light of these new developments, Nintendo's heavenly stock plunged dramatically.  Not surprising, as Nintendo also nearly halved its expected fiscal earnings from ¥200 billion to ¥90 billion, largely in part due to its high price tag and non-holiday release date.  Nintendo's reasoning behind the drop in expected fiscal earnings is as quote, "The earnings forecast has been modified to reflect the trend of stronger-than-expected yen appreciation, current sales performance, the sales outlook for the holiday season, and the decided release conditions for the Nintendo 3DS."
Nintendo, being one of the most, if not THE most, successful and profitable company in the industry is surely regretting its decisions to release after the holiday.  Will you be getting a 3DS in light of the high price and the fact that it's releasing after the holidays?  Will Nintendo be able to turn its new handheld into the money making machine that its previous iterations have been, despite the extreme plunge in their stock in response to its release details?  Only time will tell.