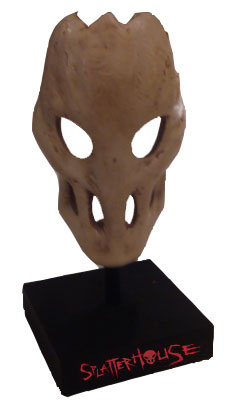 The newest reincarnation of Splatterhouse has been pushed back more times than I care to remember, but I am finally feeling that this game is finally coming out. Gamestop is now offering a nice 6" statue of the famous Horror mask for anyone that pre-orders the title.
To catch anyone up on what they need to know about the newest installment, here is a list of features for the game:
The Classic Franchise Returns – An innovative reinvention of a classic category-killer with an original storyline inspired by Gordon Rennie (Necronauts, Judge Dredd)
Re-imagined Enemies – Favorite enemies have evolved into horrific monsters of radical proportions and shocking detail
Extreme Gore – Splatterhouse pulls no punches, taking gore and shock value to the next level
Regeneration – Real time regeneration eliminates the traditional health bar by showing physical damage & the rebuilding of bone, muscle and skin.
Reanimation – Raise an army of slain enemies by gathering Necrotic energy to serve as undead minions.
Pulse-Pounding Combat – Use Rick's deep set of moves, improvised weapons, environmental attacks, two combat modes and unique enemy AI to obliterate enemies at each turn.

Splatterkills Engaging combo system that opens up to gruesome Splatterkills, which destroy your enemies with gory and cinematic effects
Large-scale enemies Gargantuan and epic scale bosses provide a memorable challenge and experience
Varied stages and environments H.P. Lovecraftian art style and direction lend an eerie mood and tone throughout the entire game
Weapons Use weapons of all kinds to bludgeon your enemies, ranging from classic 2X4's to chainsaws and (*gulp*) enemy limbs!

The only game with a combination of massive enemies, over-the-top gore and the ability to regenerate body parts real-time
Inspired from icons of the horror genre, including H.P. Lovecraft & Simon Bisley
A AAA reinvention of the famed Splatterhouse title that launched the horror-escape genre and invited the very first "parental advisory" for a video game (for gore), uniting an existing fan base and recruiting a new one
A supercharged soundtrack with songs from today's most influential Heavy Metal artists
It is great to see this title from Namco-Bandai getting some attention finally and I have very high hopes for it to be great. Splatterhouse is set to release on October 26th of this year for the Xbox 360 & PS3 and is sure to bring out fans for this huge revival of one of the most loved franchises of the video game world.