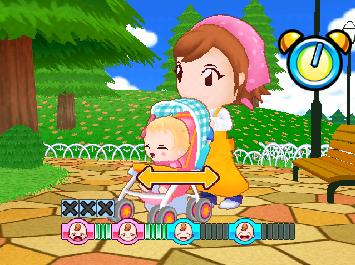 She cooks, she gardens, and now she babysits. Mama is back in action and headed to the Nintendo Wii for the newest entry in the popular "Mama" franchise which has sold nearly 7 Million units since release. Yes, the series mainly appeals to the female gamers out there but the solid gameplay and charm have kept the Mama games successful and still fun to play over the years.
Within the game, there are six different babies to choose from, each with a unique look and set of activities such as rocking the baby, teaching the baby to walk, taking photos, changing the baby's clothes, and peek-a-boo. Babysitting Mama also honestly looks to be the perfect gift for any little girls in the family as the game will have a real plush doll that the WiiMote will fit right into then they can watch their newborn come to life as they enjoy 40 babysitting activities from feeding to bathing to playing. The game also features a two player mode.
So if you have a little gamer in the family and are looking for the perfect gift for the holidays coming up, Babysitting Mama has you covered and will be launching in November of this year for the MSRP of $49.99. Check out these new screenshots below showing off some of the newly added features and games withing Babysitting Mama.