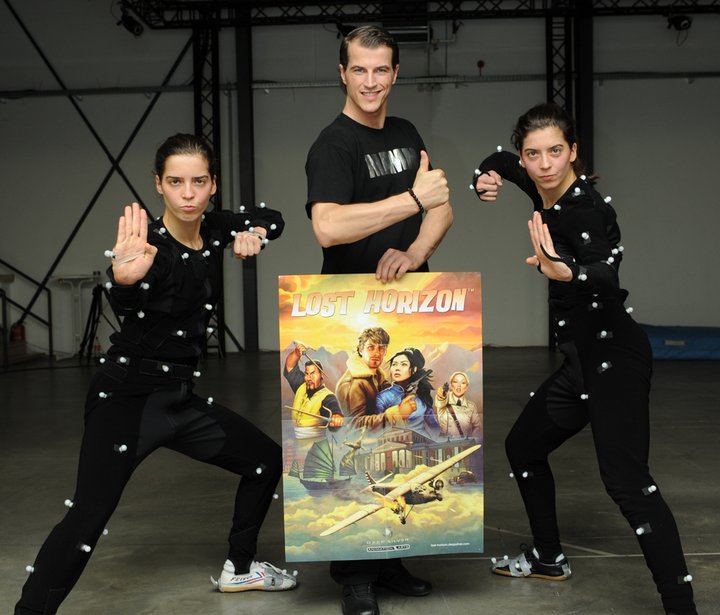 With the upcoming Gamescom event this year in Cologne, Deep Silver has announced a special treat for all in attendance this year. Members of MAMM, Martial Arts Meets Media, who are responsible for choreography and motion capture in several scenes of Deep Silver's new adventure game Lost Horizon, are going to perform on the Deep Silver stage on the Saturday of the fair.
Here is a bit of info from the the official press release:
Martial Arts Meets Media (MAMM), founded by David Török, consists of top-class, multiple award-winning Wushu athletes. Török himself, the current four-time German champion, created the intricate martial arts choreography for Lost Horizon. Twins Leyla and Necla, who took on the roles of the protagonists for Lost Horizon's motion capture, will demonstrate some of their scenes to visitors live.
Perfect body control, spectacular combat techniques, top-notch acrobatics and a multitude of exotic weapons are going to leave the audience breathless. "In combination with the graceful movements and female elegance of Tai chi, Wushu is an athletic highlight that will capture everyone's attention. We are proud to be able to show this fascinating sport through motion capture in Lost Horizon, and live on the Deep Silver stage at gamescom," says MAMM manager Rainer Hoffmann.
Steffen Schamberger, Senior Producer at Deep Silver, says: "We are very happy that we were able to work with David and his team for the relevant scenes in Lost Horizon. With his professional support, we achieved an exciting, believable implementation of these sequences."
Lost Horizon is the third title issued by Animation Arts, the developer of the award-winning Secret Files series. With its classic 1930s setting, fascinating locations such as Hong Kong, Tibet, Berlin, and Morocco, and the eventful search for one of humankind's greatest secrets, Lost Horizon sure to bring in mystery fans back to their PCs for some solid storytelling and exploration.
A point and click title with graphics worthy of having top notch mo-cap actors sounds like a wonderful idea and I am excited to see how this will play out in Lost Horizon. On August 21 at 2 PM, the Wushu pros are going to show elements of Chinese martial arts at the publisher's booth in hall 7.1, B041, as part of the Lost Horizon game presentation at this year's Gamecom event. If you can't make it to that, breathe easy as the game will be coming out to all on September 24, 2010.