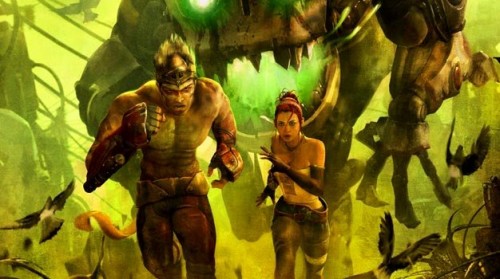 Gamescom has gotten a major influx of Enslaved: Odyssey to the West gameplay footage from Namco Bandai today as they are not only showing some of Trip's abilities but Monkey's as well. In the first video below we are introduced into the fighting mechanics of the game as monkey does battle alone using his staff against robotic opponents.
Then the next video shows off Trip's electronic prowess as she manufactures a robotic dragonfly that helps scout the area and show Monkey where he has to go to perform various actions that are required to advance in the game and looks to be a nice feature as it also shows various enemy weakpoints.
Then again what gameplay video package release would be complete without a boss battle shown off in the middle of it all? We can see Monkey doing battle with what looks like a gigantic robotic rhino and injuring it using what appears to be a staff activated mine. Then again we won't be doing battle with giant robotic rhinos or following robotic dragonflys around until the game releases onto the PS3 and Xbox 360 on October 5th.