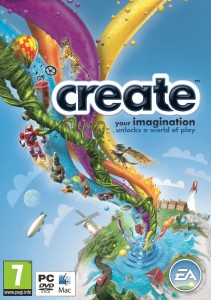 Ever wanted to play Little Big Planet on Xbox360 or Wii? Well, don't get your hopes up, because LBP will remain PS3 exclusive, but you will have something similar…EA announced today their new upcoming title, Create. A game for the whole family, which will let you create your own environment and experiment with it.
"We wanted to design a game where the entire family can explore, decorate, and solve challenges where no solution is wrong and the only limit is the imagination,"  – Harvey Elliott, VP and General Manager at EA Bright Light.
Create will have the player's solve different puzzles and levels by using their imagination…the more creative you are, the bigger the reward will be. So it's not an actual "create-anything-then-play-it" game, but rather a puzzle game. How this turns out…we'll have to wait and see.
Create will be released "this holiday" on PC, Mac, Wii, Xbox 360 and PlayStation 3. Regarding peripherals, the Playstation Move will be supported, though no info on Microfts's Kinekt just yet.