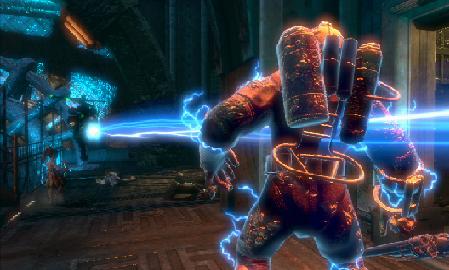 Bioshock 2 was a great game. It had a huge price cut shortly after launch but just because the price got lower doesn't take away from the quality the sometimes overlooked sequel brought. 2K Games Announced recently that the new and final installment of Bioshock 2, "Minerva's Den" DLC will soon be coming to the PSN store and the Xbox Marketplace. Minerva's Den is a self-contained narrative experience that puts players in the role of an all-new character who has teamed up with Brigid Tenenbaum to unravel a dictator's stranglehold on a key district in the distinctive city under the sea.
2K Games Released this statement about the new add-on:
"Minerva's Den is a substantial addition that will give players more of what they're looking for: more story, more narrative, more gameplay and more of Rapture," said Christoph Hartmann, president of 2K. "The core team has created an exciting product that further enhances the mystery and allure of the world of Rapture. Minerva's Den will be a fitting conclusion to the BioShock 2 saga."
Prepare to explore Rapture Central Computing, a never-before-seen district of the undersea city, and uncover the dark secrets hidden in its founder's past. Wield new high-tech weaponry and a devastating new Plasmid to best the towering threats in Minerva's Den: more dangerous Splicers that command the power of the elements, upgraded Security Bots that throw rockets and lightning bolts, and even a never-before-seen type of Big Daddy. Developed by 2K Marin, Minerva's Den offers new twists on the story-driven experience that drew players into BioShock 2 when it launched earlier this year.
Great news to Bioshock fans who already just received the "Protector Trials" content earlier this month. Being the last of the DLC for Bioshock 2 No date or price has been released as of yet for Minerva's Den, but based on the last add-on's price I am thinking we could see this be priced around 400 MSP/$4.99.