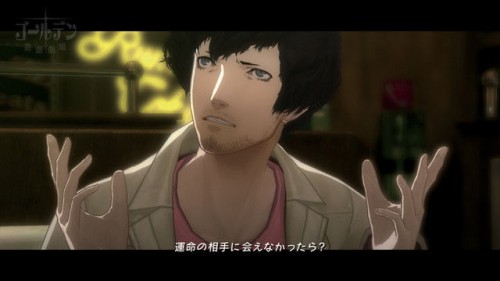 Fans of the Persona series by Atlus may be a bit angry at the news that the next game by the creators of their favorite franchise is working on a new game that is not an RPG, but an action adventure game called Catherine. And it will definitely be a game for more mature audiences as the themes are very unique as you will see in the trailer below.
The game contains horror elements and melds together very well with various crazy elements such as sheep in ties and the fact that the main character Vincent will be constantly seduced by Catherine the girl in which the game is named. In more detail we have Vincent as a 32 year old salaryman that as not been married and has barely any interest in love as a whole. That is of course until he runs into 22 year old Catherine who rattles Vincent's mind, in more ways than one. After meeting her he starts to experience nightmares that involve a never ending staircase that will constantly throw him into nightmares until he reaches the top.
There is even a rumor going around in the game world that if you die in the dreams, you die in real life, which places Vincent in constant fear for his life as he experiences many strange occurrences in his dreams. While in real life he is dealing with the very forward Catherine. It would definitely be a very interesting game to see overseas and with the successes of the Persona series in the West it would be a major loss if this game never saw the light of day outside of Japan. But as it stands there is no release date other than that for Japan which is in Winter of 2010.
Beware the below trailer is slightly NSFW due to some parts around the minute mark.