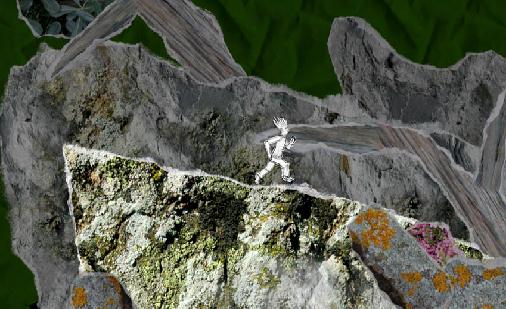 Continuing the trend of quirky art-style games comes a new top contender to the WiiWare download service. "And Yet it Moves". Indie developer Broken Rules is now releasing the downloadable PC game experience straight to the WiiWare. The highly anticipated game will now take on the motion control scheme of the Wii for a whole new experience that the fans of the title are sure to enjoy. Along with new controls, players will be introduced to all new levels and environments that are exclusive to the WiiWare version.
And Yet It Moves is a physics-based platform game in which players rotate the world at will to solve challenging puzzles. A tilt of the Wii Remote also tilts the world, turning walls into floors, slides into platforms, and stacks of rocks into dangerous hazards when flipped upside down. Players navigate through a paper collage world created with colorful pieces of cardboard and set to distinctive music. With four different environments and multiple unlockable modes, And Yet It Moves will provide gamers with endless challenges.
Features Include:
Advanced Platforming – Players run, jump and must rotate the world to solve puzzles.
A Living World – Creatures such as bats, bees and monkeys populate the game world and react to ever-changing gravity.
20 Levels In Four Different Environments – Mind-bending puzzles set in an extraordinary paper collage world created with colored cardboard, brought to life with handmade sounds and music.
Endless Replayability – Unlockables include bonus levels and competitive play modes: Time Trial, Limited Rotation, Speed Run, and Survival. Additional modifications can be unlocked that can change the entire game.
Multiple Control Options – Play as you wish with 4 different control schemes. Use the motion sensor and Wii Remote pointer, or use the Classic Controller.
I will have this on my list for sure as I love unique games and this is one that has a lot of quirks to draw in about anyone. Just from the trailer alone I was extremely impressed by the music and artistic style and feel "And Yet It Moves" seems to have. The motion controls on the Wii are used often in many games, but the thought of controlling your whole environment just with the tilt of a controller and completely changing up the gameplay is exciting. Check out the awesome trailer for the new game And Yet it Moves below and also don't forget to check out Broken Rule's official website on the title at www.andyetitmoves.net for even more information. And Yet it moves is set to release on August 23rd for the WiiWare at 1000 Nintendo Points.