Worms is back to the PCs!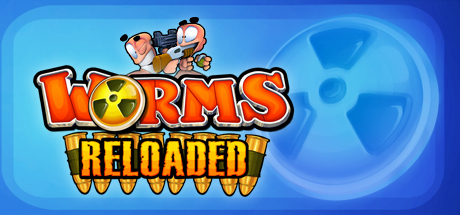 Our beloved worms are back with Worms Reloaded for the PC, a game that merges some of the best 2D Worms features in an all-new game.
Worms Reloaded sports a large amount of new additions to almost every facet of the gameplay experience. Over 60 single-player missions (including new Warzone Campaign and Bodycount Mode), a fully featured landscape creator, Steam Achievements, Leaderboards, 45+ plus weapons spanning the entire Worms series and a huge currency based customization system – all wrapped up in HD quality visuals – means that Worms Reloaded will be a highly enjoyable experience, whether playing alone or with friends. The game main features are:
EXTENSIVE SINGLE-PLAYER CONTENT:
Campaign mode. Play through 35 single-player missions as well as 30 more in the Warzone Campaign that is tuned for advanced players.
Bodycount mode! How will you survive with having just one worm pitched against never ending spawning enemy worms that get increasingly tougher? Compete against friends in the scored leaderboard.
Training Mode. Comprehensive tactics tutorage that includes 3 tutorials and 3 different firing ranges.
ONLINE AND LOCAL MULTI-PLAYER:
Up to 4-player online and local multiplayer action – with full Steamworks support, for pain free game updates, friends-lists, leaderboards, achievements and chat.
Leaderboards! Multiple different leaderboards to track different game types and stats. These can be sorted globally or by friends enabling and encouraging competition between friends.
MASSIVELY INCREASED CUSTOMISATION:
Wild customisation and personalization – change appearance of worm skin, choose victory dances, gravestones, voices, HUD, title and over 70 different cute, funny and downright stupid hats!
Shop 'til you drop! Players can buy hats, landscapes, weapons, missions, forts and gravestones with currency awarded for completing single player campaigns.
Over 70 speechbanks – 50 re-mastered from the classics and over 20 new speech banks including the insane Cheese sound set!
A range of great classic and new custom levels to play on, plus make your own!
NEW FULLY FEATURED LANDSCAPE CREATION TOOL:
Fully featured landscape editor including the welcome return of bridges and the ability to import your own custom levels into game so you can share your creation with friends and play online. Add your own start positions, mines and scheme to effectively create wild new play modes and styles of game.
All new vertical landscapes – to take the battle to new heights!
The scheme editor enables the changing of all aspects of the game to fit your own style, including new random objects such as the sentry guns and electro magnets, and a new fire hazard.
WORMS™ WEAPONRY AND UTILITIES:
47 weapons and utilities including classic weapons from Worms™, Worms™ 2, Armageddon, World Party and the recent Open Warfare series as well as 14 brand new weapons!
New weapons include Super Bunker Buster, Ferrets, Poison Strike, Worship, Sentry Gun, Electromagnet, Buffalo of Lies plus new persistent fire and surprise Easter Eggs!
Classic Weapons returning include Armageddon, Concrete Donkey, Napalm Strike and yes, the Holy Hand Grenade!
GAME MODES:
Select from a range of classic Worms™ game modes and new modes for this edition – Crate/Shopper modes, BnG (Bazooka and Grenade), Forts and Rope Racing.
Use the customisation tools to make your own mode!
HIGH DEFINITION VISUALS:
13 HD graphical themes for millions of random levels – never play the same game twice!
Worms™ has never looked this good with all new High Definition landscape artwork – based on the most loved Worms™ game ever made.
Widescreen support, optional blur effect for backgrounds, 16 specially designed forts for the fantastic Fort mode.
PC SPECIFIC CONTROLS:
User defined controls with classic settings as standard.
Function key support for fast access to common weapons.
Works with compatible USB gamepad.
It also runs on all modern Windows Operating Systems.
"Worms Reloaded has been a labour of love for the team given the legacy of 2D PC Worms titles such as Worms 2, Worms Armageddon etc. It has been almost 10 years since the last 2D game was released on personal computers. In bringing Worms Reloaded to PC, we've reintroduced so much of what gamers loved about the good old days, and it's fitting that it is also the first Worms game we've self-published since the early games. We are very much looking forward to supporting the game through the community on Steam as well as our own Facebook page." – Martyn Brown, iconic figure in the world of Worms and Business Development Director at Team17
The game is already available for pre-purchase on Steam: Worms Reloaded on Steam
The pre-purchase includes a 10% discount, 24 hours early access to the game, and the exclusive x6 Worms Hats and x10 Forts in-game items.
Worms Reloaded launches on August 26. For now you can check the game's trailer right below.