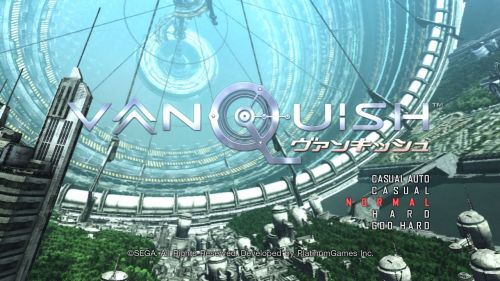 Casual players will have it extremely easy if they wish to play Platinum Games' Vanquish coming on October 19th. That is because they have announced that there will be the difficulty known as "Casual Auto" selectable for a difficulty within the game. Think of it as being something similar to what you experienced in Bayonetta's Easy Auto mode.
Shinji Mikami the director of the game was quoted saying on the mode:
"Before we started work on it, I can't say that I had high hopes; however, once we got it up and running, I was pleasantly surprised to see that I was wrong,"

"Once you get your target on the enemy, the rest is easy as pie. I'm sure saying it that way makes it sound totally uninteresting, but when you actually give it a shot, the tempo it gives the game play will make you jump up and say, 'Woohoo!'"
Mikami had even more to say about the also announced God Hard mode:
"This mode is only for the chosen few (you can't select it on your first play through). If you are a bit of a masochist, I think you will have a good time. It is something for our fans to look forward to."
It's good to see that Platinum Games is extending their hand out to the more casual player that won't be able to handle such heavy twitch shooting mechanics and allow them to enjoy themselves, while not forgetting about the hardcore players at the same time and giving them a nice punishing difficulty to go through.