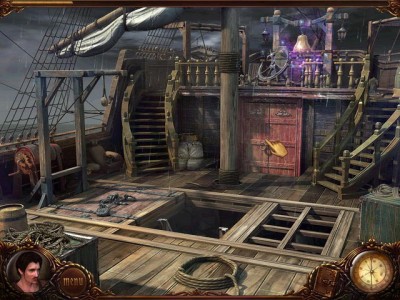 Vampire Saga-Pandora's Box is a thrilling hidden object game produced by Alawar Entertainment.  Originally released for the PC last fall, The game begins as the main character, Matthew Ward, sneaks on a ship, Pandora, to flee the Spanish-American War.  After stealing on the ship, he passes out and wakes up to find himself alone with several coffins.  After searching Pandora, he finds that there is no crew or captain to be found, and that he and the ship are stranded in the middle of the ocean.  Although Matthew is seemingly alone, he feels like he is being watched by something, or someone.  The game then sets off as Matthew tries to escape from the ship and find out the secrets of Pandora.
Why is there no crew? Why is Matthew being watched? You will find the answers to these questions and more as you search for over 300 hidden objects over eleven game scenes, play minigames, and immerse yourself in the stunning storyline of Vampire Saga-Pandora's Box, which will be available on the Apple iPhone/iPad very shortly.
Key Game Features
11 hidden object game scenes
Five mini-games
300 hidden objects
Animated cutscenes
A surprise ending!