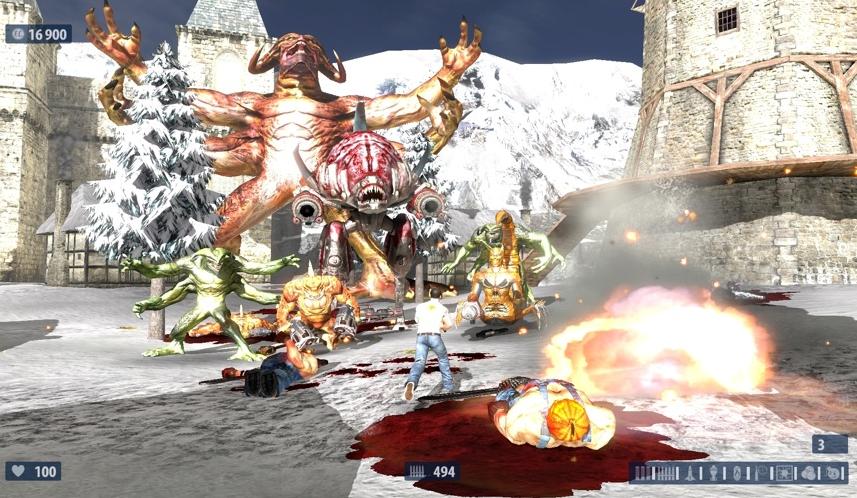 From July 8 until July 11, Steam is going to be the host to a free-for-all and free to play multiplayer event for Serious Sam HD: The Second Encounter. Don't have the game? Then you are in luck, the game will also be 50% off, which means it is only $10! Go buy it now!
Yeah, that is all I had to say. Still feel like reading? Check out the press release below. It is quite humorous! All press releases need to be like the one below.
~~
SERIOUS SAM HD: SECOND ENCOUNTER MULTIPLAYER FREE-FOR-ALL IS FREE FOR ALL THIS WEEKEND ON STEAM
Gamers Get a Delicious Taste of Multiplayer Madness and 50% off Purchase
Zagreb, Croatia, July 8, 2010 – In an effort to spread the Gospel of Sam to those non-believers who still haven't bathed in the redeeming light of high-definition, Croteam has decided to allow the few remaining heathens to partake in the visual delights of Serious Sam HD: The Second Encounter's over-the-top multiplayer modes. From July 8 through July 11, Steam users around the world will be able to play all the brilliant new modes of multiplayer fun with up to 16-players. New converts will be able to experience divine gameplay modes like Co-Op Survival, My Burden and Beast Hunt along with classic deathmatch and campaign co-op modes.
"This is total bullshit," said Fork Parker, Chief Financial Officer at Devolver Digital. "How are we supposed to make any money by giving away our sweet multiplayer juice for free?"
Serious Sam HD: The Second Encounter will also be discounted by 50% during the promotion. Seriously. Half off a game that already costs less than $20. That's $10 sucka.
"Goddamnit," replied Fork when asked for further comment.
About Croteam
Croteam are the creative force behind the massively successful Serious Sam series, which is recognized across the globe for its all-action and entertaining game design and its powerful Serious Engine technology. Founded in Zagreb, Croatia in 1993, Croteam has grown to become one of the most successful and respected developers in Eastern Europe.
More information about Croteam can be found online at www.croteam.com.
About Devolver Digital
Devolver Digital is a small, laser-focused production and publishing company based in Austin, Texas, (also with one very lonely desperado in London) from an unnamed group of industry veterans/outlaw refugees. The company aims to take large wads of fun created by great game developers worldwide, and help create large wads of cash from it by getting it into the hands of rich, entertainment-starved gamers around the world, wherever they happen to be hanging out, and for whatever currency is handy. Our Twitter handle is @DevolverDigital so hook it up.