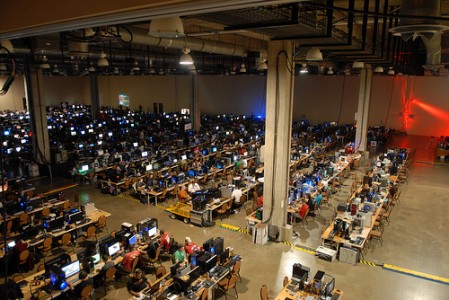 After a huge showing last year with over 7000 guests in attendance, id Software, Bethesda Softworks and their parent company ZeniMax Media Inc. are bringing back one of the biggest free conventions to Dallas, Quakecon. Starting on Thursday, August 12th at 9am and lasting all the way through til noon on Sunday, August 15th, gamers will be in a for a huge treat as thousands gather from all over to play in world-class tournaments, meet the developers of some of the biggest games in the industry, and get connected with the United State's biggest Bring Your Own Computer LAN party.
It wouldn't be called "Quakecon" without Quake of course. There will be big-money pro tournaments and live matches throughout the day featuring id Software's free-to-play, web-based multi-player game Quake Live with  the new 250-seat arena that will allow spectators to get up close and personal with the competitors as well as large screens with commentary from the shoutcasters so attendees will be able to view all the action and excitement at all times.
Can't bring your own computer? Quakecon has you covered there too, as attendees will be able to get hands on with  some of the most anticipated future releases at there such as Brink,Fallout:New Vegas, and Hunted: The Demon's Forge.
So if contests, tournaments, entertainment, announcements, panel discussions, and parties plus a whole lot more are your thing on top of going to one of gaming's biggest events this year, Quakecon will be your destination in August. For more information, head to www.quakecon.org.