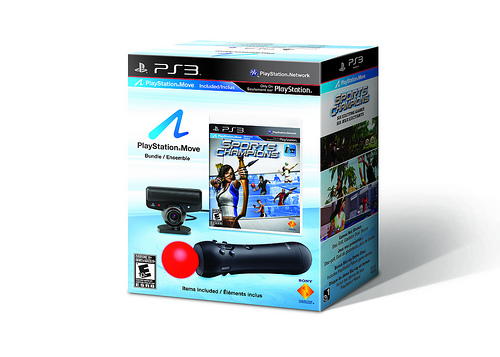 Sony has revealed on their blog that there will be two different bundles to get your Move on when they come out. So lets get down to business. The full package with everything you will need for the Move will set you back $400 USD, and it will include a PS3, the Sports Champions game, a PS Eye, and a Dualshock 3 Controller.
The second bundle as you can see above doesn't come with the PS3 and instead comes with everything else, so shaves off the $300 price addition to only cost $100 USD. Though if you already have the Eye and don't care about Sports Champions, then you can buy the Move controller itself for only $50 USD.
Bear in mind though that in all of these packages the navigational controller will cost an additional $30 to have, so expect to be paying about that much if you wish to have it too.
Unfortunately these different packages don't essentially save any money between them and the fact that the navigational controller doesn't come with any of the packages is a bit of a low blow as well. What do you guys think about these different packs?