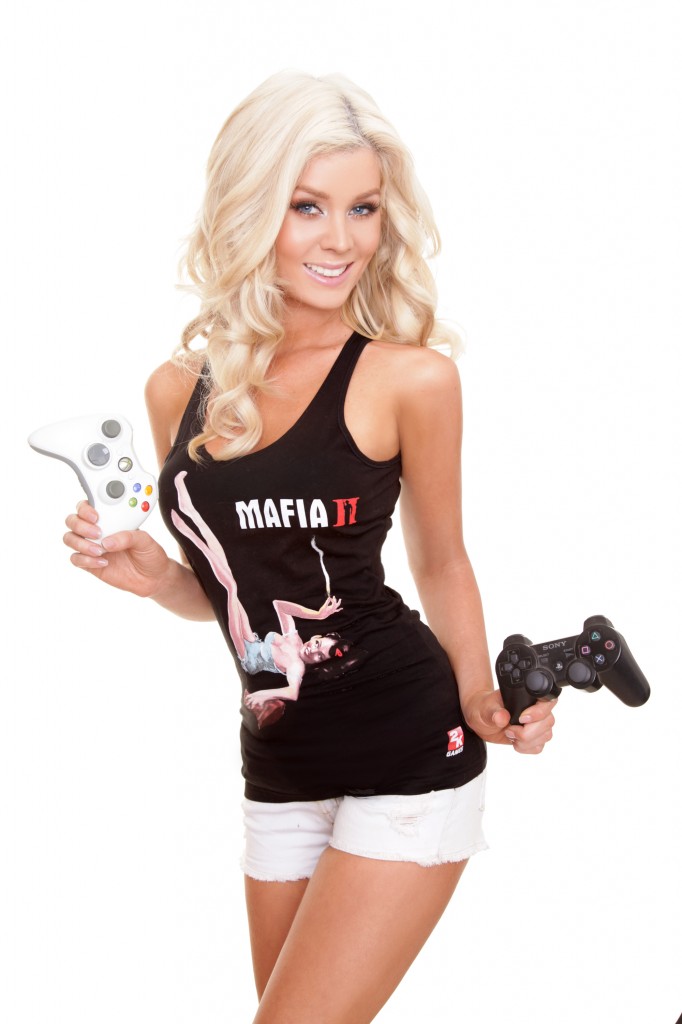 When it comes to any form of entertainment and how to promote your product, sex sells. In a brilliant and quite appealing move from 2K games, "The Face of Playboy Swim 2010," Sheridyn Fisher, has now been announced as the official ambassador for Mafia II. This news is due to the fact that Playboy and 2K games are to use more than 50 of their vintage covers and Centerfolds in Mafia II as part of the unique in-game integration.
Born, bred and based on the Central Coast of Australia, Sheridyn is known for her cute-as-a-Bunny look and her girl-next-door attitude. Now the new face of Playboy Swim Australia, she has won the hearts of many of her fans by just being her fun-loving self. Modelling professionally for over seven years, Sheridyn enjoys all aspects of her career but still considers herself a "tomboy at heart," loving nothing more than playing her PlayStation 3 computer entertainment system.
As part of her involvement with Mafia II, Sheridyn will be featured in an exclusive Mafia-inspired photo shoot with an Australian men's magazine. She will also be making a special-guest appearance at the IGN Black Beta event that is being held at The Club on July 29, where gamers can register online to be one of the first in Australia to play Mafia II. In addition, the first 100 to attend the event will each receive a Mafia II t-shirt and a magazine copy of Sheridyn's shoot.
Fisher had this to say on the announcement:

"I am thrilled to be an ambassador for Mafia II—it's a great opportunity for me to release my inner geek!" said Sheridyn. "Mafia II is an awesome shooter, with an amazing story and environment – but my favourite bit is that you can collect more than 50 vintage Playboy Centerfolds! Being an avid gamer, I am so excited to be a part of the Mafia II Australian release and look forward to meeting other fans of the game at the Mafia II Black Beta Event."
Marvel and Capcom, Street Fighter and Tekken, Mario and Sonic, Now Playboy and Mafia II. There is nothing wrong with adding some eye candy to mix into a solid title, especially when your main audience are men who are more than likely fans of the magazine or just "read them for the articles". Either way, 2KGames is pulling out all the stops for this title which releases Australia and New Zealand on August 26, 2010 for the Xbox 360, PlayStation 3 and Windows PC and for the U.S. on August 24th.