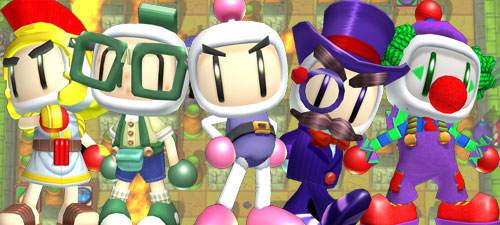 Some game companies really go that extra mile to break the fourth wall and really get to know the players that enjoy their products. What I am saying is Hudson will be hosting a tournament for the title this Friday July 30th, 2:00 pm – 3:00 pm Pacific Time (US).
Here is the official announcement from the Hudson forums:

Okay so here's how things are going to go. Because there are probably going to be more people interested in playing than the 8 player limit for Bomberman LIVE, we'll organize things outside of Xbox LIVE using a forum thread as well as a chatroom. At the start time you can enter the chatroom/thread and I'll be waiting. State your gamertag and I'll invite you using the gamertag we'll be using, still not determined, and we can play together. The chatroom/forum can also serve as a way to contact us outside of the Xbox Live if you have any questions or technical difficulties in joining.
I'm thinking to do 4 player matches (so 1 staff plus 3 other players) to start or at most 5 players unless the majority opinion is to just accomodate as many people as possible and do an 8 player match. I know a lot of expert players dislike too many players in one match though. The order in which players will be invited into the game session will be first come/first serve depending on replies in the chatroom or forum. Winners will stay in, as well as myself the Hudson staff playing and the others will rotate in and out. If players wish to spectate we can always play 8 player games and just have people eliminate themselves at the beginning of the match who aren't officially in the selected group.
We'll also determine the match settings in the chatroom prior to beginning the match and subsequent matches will probably be a combo of winner getting to choose and us at Hudson picking a match type. However, in all cases it will probably be 3 wins to win a match. Rest assured we will incorporate some Bombing Run matches with limited items for a truly pro level competitive match at least some of the time. Please don't cheat or glitch or anything like that as we will be monitoring the events and this just supposed to be a fun time for all. Although we probably won't be adopting a strict tournament format for this Friday, unless it's overwhelmingly demanded, it's something we want to incorporate in the future perhaps as early as next week.
We'll try to play for around an hour although the time is a bit flexible. Unfortunately we can't spend all our workday playing games here at Hudson and there is real business we'll have to be handling.
Inviting yourself to the chatroom is possible with the AIM client directly, AIM through meebo, and AIM through Pidgin. Those are ones I've tested it with so far.
THE RELEVANT FACTS:
Game: Bomberman LIVE on XBLA
Winning condition: 3 Wins
Match type/parameters: TBA
Time: Friday July 30th, 2:00 pm – 3:00 pm Pacific Time
AIM Screenname: HudsonBomberman
Chatroom: BombermanLIVEwithHudson
Forum thread: This one
Gamertag: TBA

Opportunities like this are rare so get make sure you hop on and join the fun that will be taking place tomorrow. You might even bump into one of us at Capsule Computers while your there.
Check out the original post HERE with constantly updated information.