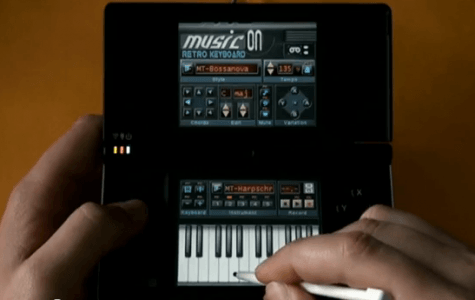 If you were a kid in the 80's or 90's, there is a good chance you have fond memories of tearing open a present, and receiving a brand new electronic keyboard. I remember the first one I ever had, it forever taught me how to play "frere jacques", too bad that was all I learned on it. but I did have a lot of fun attempting to be Mozart. The new
"Music on: Retro Keyboard" is exactly that though, a more portable electronic keyboard to fit right on your DSi.
Just imagine being able to play theme songs from The Legend of Zelda or Super Mario Bros. everywhere you go, which is what creator and famed 8-bit composer Alberto Gonzalez from publisher Abylight seemed to have in mind.
"One will be able to perform the soundtrack of the best classic video games how they originally sounded" – said Alberto Gonzalez, producer at Abylight and responsible for over 40 original video game soundtracks since 1989 – "It is perfect for retro lovers".
More features are set to include:
Automatic accompaniment function with chord recognition
Up to 8 user definable chords
5 different styles, each one with 4 variations
Independent drum, bass and chorus parts
6 octave keyboard (2 visible)
Pitch bend function
16 instruments
Integrated sequencer
Metronome
Recording and replay option
With all the features and at a  low price of 200 points, this title looks to be perfect to anyone with a bit of a music itch. "Music on: Retro Keyboard" releases in North America on July 12th, and hits Europe and Australia on July 25th. Batteries not included.
Don't forget to check out the trailer below.