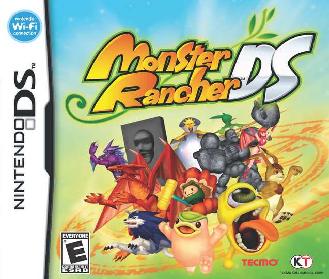 Back in 1999, Pokemon was on top of the world. The craze was in full swing and gamers were also being introduced to all sorts of new titles and franchises, on being Monster Rancher or "Monster Farm" as it's called in Japan. Many people try to compare Monster Hunter to Pokemon, which you can indeed see the similarities, but they both play completely different as Monster Hunter was mainly focused on breeding, battling and discovery.
After a long hiatus from the gaming scene, Monster Rancher is finally back with the new Monster Rancher DS!
New Features are set to include:
Generate Your Own Monster – Draw a picture into the "Magic Field" or speak into the microphone in "Incantation Mode" to generate a unique monster! Unlock a secret method of creating monsters as you play through the game! You can even combine your favorite monsters to create a new, more powerful monster!
Train To Become Legendary – Find the best strategy to raise your monster on a weekly basis by giving proper rest and training. Battle tournaments will test how good you are!
Bring Out The Rivalry – Check out the improved training and management features of monster breeding as well as the ability to fight rival breeders in the game!
Battle Rounds – Using a new battleground system, choose attack techniques that are "short", "medium" or "long" range, allowing for a variety of strategies. Stay out of your opponent's range or trick them into pulling back so they trap themselves makes each battle unique!
Nostalgia Fan Service – Favorites such as Monolith, Gali, Moochi and Suezo rejoin the cast of monsters in what can be called a Monster Rancher series compilation!
Monster Rancher DS is a pure fan service for long time followers. I still remember the excitement of looking for random CD's and using them for "Monster Rancher 2" to see which new monster I would get.
With the Monster Generator taking full advantage of the Nintendo DS's features, this game is shaping up to be a big release for the handheld this year. For those who are fans of or looking for an alternative to Pokemon, this title would be the choice to check out.
Monster Rancher DS releases on August 3rd for the Nintendo DS. Check out the trailer below or visit the official page at UFO Interactive's website here.