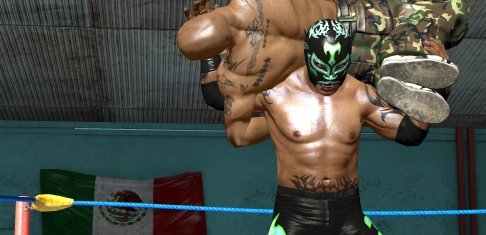 As a kid I grew up watching wrestling and I still remain a wrestling fan to this day. I played all the games trying to truly replicate those awesome moments I seen in the ring on the "Smackdown" series,"No Mercy","Fire Pro" and countless other games in the genre. This fall is set to bring something wrestling fans and gamers have yet to receive in the last couple of years though, a true alternative to the huge Smackdown vs Raw series. If you are not familiar with the style of wrestling that is "Lucha Libre", here are some fun facts you might to get you a bit more caught up of what to expect from "Lucha Libre: AAA Heroes of the Ring".
If you have never heard of Lucha Libre, it is the fast-paced sport of Mexican Wrestling. Lucha Libre  is known for it's performers with unique masks, high-flying action, outlandish gimmicks, and of course and the trademark 6 sided wrestling rings. As for the Asistencia Asesoría y Administracion (Spanish for "Assistance, Consulting and Administration) or "AAA" for short,it is a professional-wrestling promotion based in Mexico and known worldwide. Rey Mysterio Jr., the late Eddie Guerrero, and many other famed wrestlers all have roots back to this organization. The matches have more holds and more aerial attacks as well as quite a bit more blood than the current more family friendly WWE.
Konami had a huge E3 showing this year for AAA and with a real live lucha libre wrestling match which determined "Dr. Wagner Jr" is to grace the cover. Also with all the new features for the genre, this could be shaping up to be one of the greatest wrestling games in years. The game features a popularity-based scoring system which allows players to unlock increasingly acrobatic and devastating signature and finishing moves based on the user's ability to gain the support of the audience through the execution of taunts and grapple holds throughout the match. The more excitement you make your match for the digital crowd, the more rewarding the player's experience in the game. Other features are set to include:
Mexican Lucha Libre Based Gameplay: Whether playing as a Tecnico (Good Guy) or a Rudo (Bad Guy), the Lucha Libre style of wrestling features a fast and acrobatic style of gameplay in which gamers employ a sophisticated yet fun system of strikes/counter-strikes, grapples, extreme aerial assaults and character-specific specialty moves in order to defeat their foe.
Real Mexican Luchadores: Gamers may play as any of real-life luchadores featured in the AAA League. All fighters retain their own signature movements, taunts, and alignment with either the Tecnicos or the Rudos.
Authentic Mexican Wrestling Venues: In Lucha Libre AAA: Heroes del Ring matches will take place in arenas used by the AAA, as well as, locations which are representative of the Mexican culture and the Lucha Libre legend.
Customizable Character Editor: Featuring a never before seen 'Mask Editor', the game's 'Create a Fighter' feature allows players to design their own luchador from the mask down while choosing from a massive collection of customizable clothes, accessories, body characteristics and clan allegiance.
Online Gameplay featuring Mask vs. Hair mode: The game offers intense and competitive online matches for up to four players where users can fight as a character which they have created themselves. In this mode, wrestlers wager their mask or hair against their opponents in a winner-take-all battle against humiliation!

Gamestop will also be in on the action, bringing everyone who pre-orders the title one of four replica Lucha Libre masks so you can conceal your real identity to the public and jump off buildings on to unsuspecting people…or just put it in a collectors case and show off to friends if you don't want to inflict fear to the masses.
"Lucha Libre: AAA Heroes of the Ring" is scheduled to be out on October 12th in the U.S. for the Xbox 360, Nintendo Wii, PS3, Nintendo DS, and PSP. Check out the trailer below and Capsule Computers will keep you updated as more information comes.