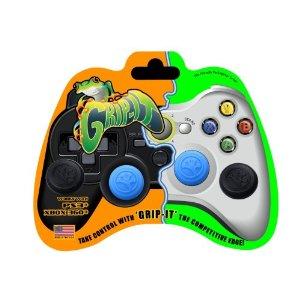 Gamers know all about sweaty hands after intense game play. Third Party companies know this as well. Just an example, remember the Air-Flo controllers from last gen that had the small fan inside to keep your hands from sweating? It is a serious issue for those who have lost levels and patience due to lack of control when under intense gaming sessions.
Well it seems that gamers who have had trouble controlling those pesky analog sticks troubles are now over. Grip-it promises to rid you of discomfort and misery with new stylish grips to go right over your analog sticks for PS3 or Xbox 360. This product also promises more precise control.
At $4.99 for a pack of 4 grips, it is a great price and allows you to change your analogs instantly for those who are in need of a solution to the slip. With the same sized analogs, it should also work for a PS2 or the Xbox Original Controller as well. Grip-It! is now available at your local fine electronics retailer.