FlatOut has always been a series that rewards you for your reckless driving abilities. The more violence and turmoil you cause the better. I have always thought of the series as Mortal Kombat with cars, well, not the Pixar Cars, though I must say that would be highly entertaining as well. Team6 have now released more information on the new title coming to the Nintendo Wii. Take a look at the newest press release about the new "Battle Arena" set to be featured in the game.

The main goal of the whole FlatOut franchise is taking out your opponents in the most violent way possible, trashing each others cars till they explode: which makes FlatOut one of the most violent racing series on the market. The most obvious gamemode for rewarding, agressive racing behaviour is the old Destruction Derby mode but at Team6, we felt that this agressive 'violence factor' was missing in the old destruction derby gamemode from the previous FlatOut: and therefore we thought of new ideas to make this gamemode more fun and violent!
In the new FlatOut, the 'Battle Arena' is situated in an immense, interactive battle arena with a dark, post apocalyptic vibe. Inspired by the gladiators in ancient Rome, this is the perfect location to destroy your opponents with fun and ease. In previous FlatOut series some people may have found it frustrating to find an opponent and try to collide with him before he was out of sight: but the new Destruction Derby is one big deathtrap with loads of features to make it easier and more fun to blow your opponents car into tiny pieces!
There's only one way to repair your car in Battle Arena: you have to pick up a newly introduced 'Repair Bonus'. The catch is, these repair bonusses are often in a narrow, dangerous alley or nearby a deathtrap, making you an easy and especially fun target for all other contenders.
You can also take a look at this rough sketch of the new Battle Arena for the game.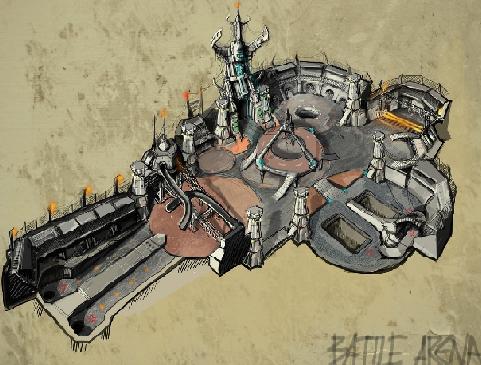 Deathtraps, destruction and violence. Sounds like a title that should be perfect to set beside a copy of "Horsez 2". Jokes aside, the Wii needs a title like this and I am glad to see Team6 on the project. FlatOut also promises to bring back the classic Stuntman mode, where you accelerate at full speed and fling your driver through the windshield. The more bones you break, the higher your score. So if your looking for a solid title with action and the classic violence that is sure to get Jack Thompson to fire up the old whine-mobile, this is for you. No release date has been released yet but be sure to keep an eye out for this new title soon.