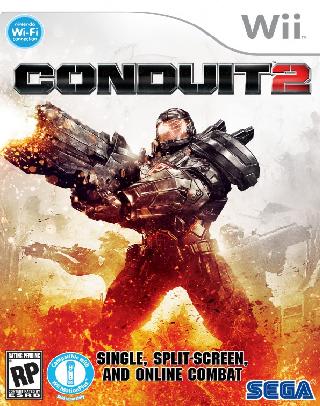 Announced at E3 this year, High Voltage and Sega's Conduit 2 had some nice box-art released. Based on the art, it looks as if the main feature that will be the centerpiece of the new game is the much hyped multi-player mode which allows up to 12 people to go at it over the Nintendo Wii's Wi-Fi mode. The game also promised to use Wii Speak and make full use of the Wii Motion Plus for even sharper and more precise controls.
Building upon the success of the original, Conduit 2 takes players to the far reaches of the world to stop an alien invasion which can be fought in single-player, online multi-player battles, and all-new off and online co-op modes. Armed with advanced and powerful weapons, players can expect massive action in large, multi-tiered levels featuring dynamic environments, cinematic battles, giant adversaries, and deep customisation features.
Conduit 2 introduces Team Invasion Mode, the new co-op mode where players will be able to battle side-by-side with up to four friends on the same screen. Additionally Team Invasion Mode can be played online.
Shooting fans will get to try the sequel to one of the most loved new franchises on the Wii when it is released Fall of 2010. Check out the Boxart and tell us what you think about it in the comments below.