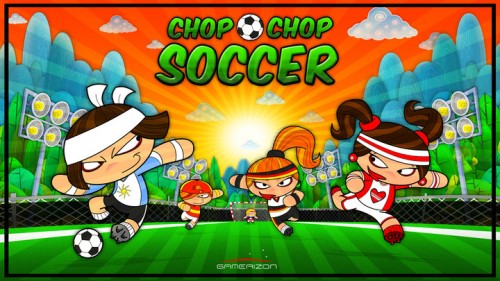 Gamerizon is no new player to the iPhone/iPad scene. Some of you may already have Chop Chop Tennis, Chop Chop Runner or Chop Chop Ninja. Gamerizon hit the jackpot with these three games, all of them reaching the 1 million downloads mark in over 40 countries. Chop Chop Tennis is currently in the top 5 of the most downloaded apps all over the world.
"Reaching the 1 million level is in itself no small feat," states Alex Sakiz, CEO of Gamerizon. "But when you can do it three times in a row with your first three games, it's clear you've got something very special going on." So why not develop yet another game bearing the series title of "Chop Chop" ?

Chop Chop Soccer, a 3D arcade sports game with colourful cartoon graphics, is the fourth installment in the successful franchise, promising the same charming, addictive and yet simplistic gameplay we've all been acquainted to. It's simplicity, however, hides a full set of "under the hood characteristics, in terms of gameplay, features and the way you evolve and organize your Chop Chop Soccer team.
All Chop Chop Games featured simplistic, yet elegant, controls, with no HUD, virtual pads or buttons blocking your screen. Chop Chop Soccer seems to adopt the same type of gameplay controls, specifically developed for the Apple Devices' touch screen: just by using your finger.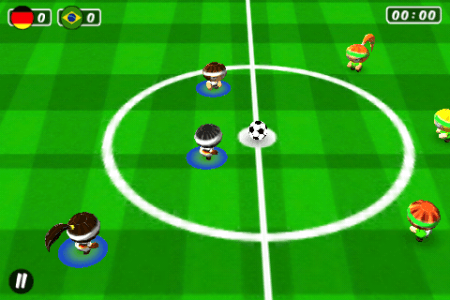 In order to move, just slide your finger on the screen. To pass, shoot or tackle, a flick of your finger in the desired direction you want your player or ball to go is enough. Sounds simple enough for a soccer game? Sometimes you want to play some football without having to learn which button sprints, which one lobs, shoots or passess.
The developers promise frantic 3 vs 3 soccer action, four difficulty levels to get better and better and four tournaments to test your skills. Variety seems to be right at home in this little game, because you will have 12 teams to choose from (including World Cup Champions, Spain and Runner Up Netherlands), four stadiums (such as Egypt Pyramids and Paris Trocadero) and 5 tutorials in order to learn the ropes and get you started.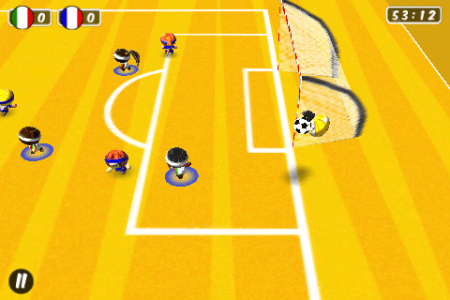 Every team is rated as per their respective strenghts, in 3 areas: offense, defense and Goalie. These ratings, obviosly, affect the AI's behavior. Each rating is actually derived from a comprehensive set of criteria that differ from team to team, thus, no two teams will behave the same way even though their ratings may be similar. Examples of such criteria are:
Attack Style – short passing, long ball, balanced
Defense (effectivness against dribbles, short passes, long balls)
Goaltending (running, catching, kicking abilities)
Defensive Styles (zone, man to man, balanced)
Passing (speed, precision)
Kicking (speed, precision)
Tackling (speed, precision,recovery)
et cetera…
Like the previous titles, Chop Chop Soccer shows a lot of promise, and if Gamerizon delivers everything they've promised AND keep the addictive gameplay that made Chop Chop games so good, we're in for a treat. I'll leave you with a word from Gamerizon themselves, regarding the evolution of the current title:
"Chop Chop Soccer will constantly evolve: more countries, more modes and many many more surprises will be added with future updates."
Chop Chop Soccer will be available in a few weeks on the AppStore.
Screenshots & trailer below: