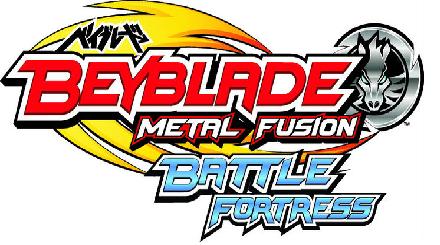 It has been years since the Beyblade series has had a video game release outside of Japan. If you remember back in the early 2000's Beyblade has quite a bit of success in the U.S. launching toys, video games and even an animated series. Beyblade consists of the characters battling with special tops enchanted by magical spirits.
Hudson has now announced some of the first information for the new title "Beyblade: Metal Fusion-Battle Fortress" that they will be developing for the Wii and Nintendo DS.
"The original Beyblade television series and toy line were a worldwide phenomenon and the new versions are already immensely popular in Japan. We're confident that the series and the video games will have similar success in North America," said Mike Pepe, Director of Marketing for Hudson Entertainment. "Both the Nintendo DS and Wii versions of the game will follow the story in the show, and we're looking forward to fans being able to battle as their favorite Beybladers whether they're home or on the run!"
"We couldn't be more thrilled to be working with Hudson Entertainment to bring the excitement of Beyblade to video games," said Colin Bohm, Vice President and Managing Director, Nelvana Enterprises. "Hudson's experience creating hit games for a younger audience makes them the perfect partner for a Beyblade video game."
Platform Specific Features:
•    Wii:
Completely game-specific story with the original characters from the animation
4 player competition against 3 other human or AI controlled enemies
Choose from up to 20 different characters
Carry the blades you create to your friends' houses inside of your Wii Remote
•    DS:
Voice commands using the DS microphone
2 player competition via the Nintendo Wi-Fi Connection™ or wirelessly using one cart!
Supported with Beyblade enhancement function based on experience
Wi-Fi competition/ranking supported
This news should make all fans of the Beyblade franchise excited and the fact that Hudson is behind the project is also spectacular news.
Check out the new screenshots below for the Wii Version. Both versions of Beyblade: Metal Fusion for the Nintendo Wii and DS should be hitting shelves of Fall 2010. For more information on Beyblade as well as other titles from Hudson Entertainment, please visit www.hudsonent.com.