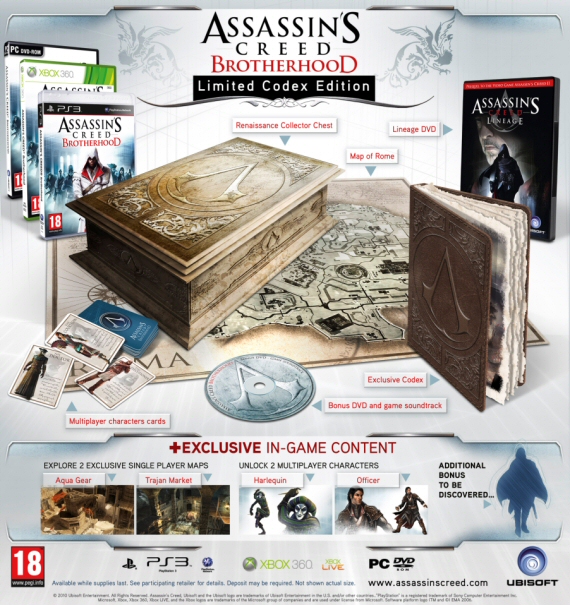 Looks like those in the United Kingdom will be receiving a bit of a bonus if they so happen to purchase the Assassin's Creed: Brotherhood special edition that is coming exclusively to the UK. Play.com has put up for sale the Limited Codex Edition of AC: B and it comes with quite a haul:
Assassin's Creed: Brotherhood – Limited Codex Edition Includes:
Assassin's Creed: Brotherhood game
Renaissance Collector Chest
Exclusive Codex
Map of Rome
Multiplayer characters cards
Lineage DVD
Bonus DVD and game soundtrack
2 Exclusive single player maps: Aqua Gear & Trajan Market
2 Multiplayer characters: Harlequin & Officer
Additional bonus content yet to be revealed
The price tag for this edition if you live in the UK will be running at £69.99 and is set for release on 07/09/2010. I'm not sure about you but depending on how well that chest is made it will definitely be a prized collectors item, and the codex itself looks to be amazing. Wonder what other special editions will be announced as the game comes closer to release.