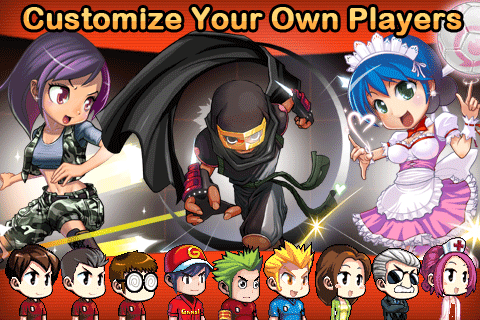 Gamevil is bringing Soccer, a sport that I believe has never seen an RPG, together with that very genre with Soccer SuperStars.
The true RPG part of the game is the leveling up of your players and team. There will be various items to purchase and upgrades to be applied to improve your team in various ways. There may even be strange events that you can have your players take part in to help build support and team effort. Then again you have the five various game modes. I'm not sure what Dramatic Mode will entail, but the others are relatively self explanatory. With exhibition being a single match, My League will effectively be a create your own team from the bottom up scenario, and then season gameplay and a tournament style cup gameplay.
Something I find interesting is that they are using Anime graphics for this soccer game. One would usually expect a company to try and make the game as realistic looking as possible but usually this hurts the game. With the Anime style being added on it definitely will help draw the Anime fan base as well as avoiding graphical errors. Plus the customization in Anime characters is always more diverse than any real life customization could possibly be.
There has been no official release date announced but look for Soccer Superstars to be getting goals in the Itunes store shortly. Definitely seems like a game that any Soccer(Football) player would love with the full customization of your team and player creating endless possibilities.