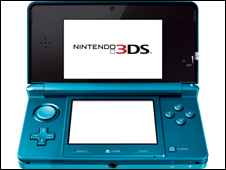 Finally it is here the 3DS ……
So what is all about Nintendo has finally lifted its lid on the new handheld the 3DS, It has two cameras just like the DSi and yes  pictures can be taken in 3D with adjustable slider to determine the level of 3D. The 3DS has two screens a large 3D screen and a touch panel (this is not 3D).  The upper screen measures 3.5 inch wide-screen display and shows full 3D without the need for any special glasses. This could be a good key selling point for Nintendo and retailers for the device not needing glasses.
The 3DS also boasts improved graphics which see the DS being brought right up to date in to the games market and also has several new control mechanisms which now includes a analogue stick and reports of a Motion Sensor and Gyro Sensor a mechanism which supports accurate rotation. The device will be backwards compatible with the DSi. Other features include the wi-fi connection will automatically be switched on which will feed data and updates to players around the world and is still free to use.
The first game that was showcased at the E3's Nintendo briefing for the new 3DS was Kid Icarus Uprising. The last Kid Icarus was released over 25 years ago, and now it will feature exclusively on the 3DS. Other titles which are under development for the 3DS include DJ Hero 3D, Saints Row: Drive-By, Resident Evil Revelations, Batman, Assassin's Creed Lost Legacy and Metal Gear Solid.  Check out the full list here.
Nintendo have yet to release any pricing or release date for  the 3DS  but it looks to be scheduled for a release date sometime late 2010.