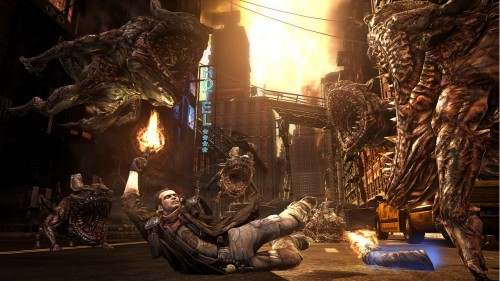 Konami has been bringing out the hits today at E3 and NeverDead is one of their biggest swings yet. It is a brand new franchise being developed by Rebellion. It will be a third person shooter with a unique feature; you will be able to re build your body after certain parts have been blown off. You can be your own walking Frankenstein! There wasn't much info released on this feature but it is easy to say that it is quite unique.
There was a trailer shown at announcement and can be seen below, in a world where strange creatures cover the planet and humans survive in an apocalyptic wasteland. Boy the apocalypse will have no surprises soon with how many times it has been used lately, but with a decent chunk of comedy thrown in should put a bright side on the whole wasteland experience.
Expect to see NeverDead on both the 360 and PS3, but we have yet to hear of any release date yet.
Video Courtesy of IGN