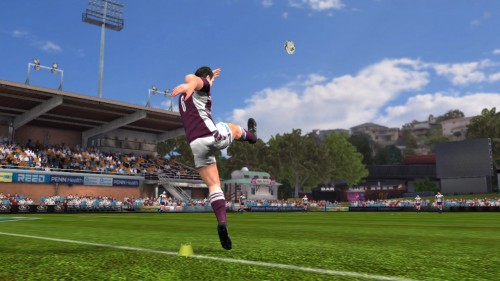 Yesterday, Australian distributor HES announced the development and release of a new rugby league title through their Tru Blu publishing arm – and unlike the recent Rugby League 3 game that was only released on Nintendo Wii, Rugby League Live will be coming out on PS3 and Xbox 360!
"Rugby League Live brings all the hard hitting action and excitement of the greatest game of all to your lounge room", said David Robles, Business Development Manager for HES. "The demand for a Rugby League game on Playstation®3 and Xbox 360® has been staggering. We have listened to our fans and we are delighted to make this announcement", said Robles.
Sidhe, the developer of the previous Rugby League, Rugby League 2, Rugby League WCE and Rugby League 3 will play no part in the development of the game and the reins have been handed over to Big Ant Studios. Sidhe have confirmed that they have made several assets available to Big Ant (such as Andrew Voss' commentary) but it is unclear to what degree they will be reused, and the game will run on a different engine.
The development of this title follows on from the relatively poor reception given to the Wii game, and it looks like Rugby League Live will address some of the big complaints that gamers had. As the title suggests, Rugby League Live will feature head-to-head and co-operative online play for the first time ever in a rugby league game. Other next-gen console features such as ground and jersey degradation will also be included. Modes that appeared in the previous Sidhe-developed titles will return.
Rugby League Live is scheduled for release on September 2nd 2010 – just in time for the finals!
To see more screenshots of the game as it undergoes development, check out the Tru Blu website.