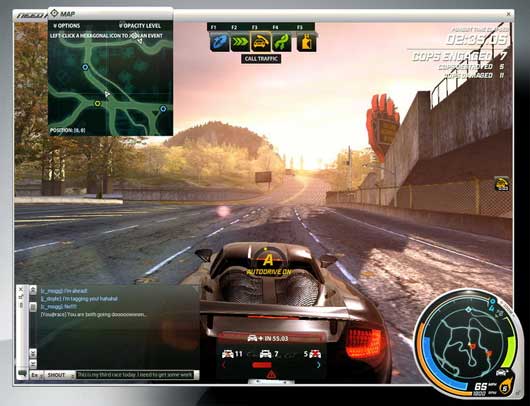 Need for Speed World is a PC need for speed game that requires you to pay to play. The MMO racing game has a new power-up system and an RPG style of progression. On July 20th you will be able to download the client which gives you free access up to level 10, so you can try out the game. Those of you who know you want the game can pre-order it and get access to the game a week early as well as a bunch of extra benefits.
Below is the press release
~~
Electronic Arts Inc. today announced that Need for Speed World, the massively multiplayer online action racing game, will go live on July 20, 2010. Need for Speed World thrusts gamers into an enormous, socially-connected white-knuckle Need for Speed experience featuring an all-new power-up system and deep RPG style progression.
Beginning July 20th, Need for Speed World will be available as a free client download at world.needforspeed.com. The free client gives gamers a taste of the action with access to all races, pursuits and career progression up to level 10.
Players who pre-order Need for Speed World will have a one-week headstart to the game on July 13th, with increased Rep (XP) gain for the duration of the headstart event and guaranteed access to all upcoming Need for Speed World beta events. Finally, players will also be able to reserve their driver names in advance of the game going live and have VIP status permanently displayed in their driver profile. Pre-orders are available now at eastore.ea.com or at participating digital retailers nationwide.
Need for Speed World brings together best in class action racing with an unparalleled social experience. Players can compete against any one of their friends, family or pick from thousands of top ranked players to challenge in intense online battles and police pursuits across 150 miles of sprawling open world. Need for Speed World combines new content with the most popular cities from Need for Speed Most Wanted and Need for Speed Carbon to create the biggest, most exciting race world ever released in the Need for Speed universe.