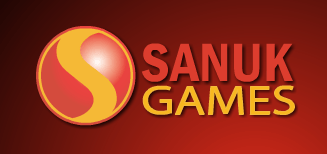 MasterAbbott recently sat down with the Yan Marchal, Managing Director of Sanuk Games, an official game developer with proven track record in creating fun and entertaining games on multiple platforms such as Playstation 3, PSP, Nintendo DS, Nintendo Wii, iPhone & Xbox 360. Yan runs us through the history of Sanuk Games and what it has planned for us moving forward.
Enjoy
Question 1 – Tell us a little bit about Sanuk Games Studios.  How were they created, the origin behind the name Sanuk, when was it first established, and how many employees does it have today.
Sanuk Games is based in Bangkok since 2003 and we're now a team of 25. I founded it after I had spent a number of years as a programmer at Ubisoft in Paris. I was willing to start a game development business on my own, but the high costs of operation in France make it very hard when you're not carrying a high added value. Therefore I decided to relocate in Thailand, a country that offers a good combination of business-friendliness and quality of life. "Sanuk" means "entertaining" in Thai language.
Question 2 – Do Sanuk Games create games on all the major platforms, such as PC, XBOX, PS3, Nintendo, DS, iPhone ?  Is development of Sanuk Games done in-house ? How many software developers are  employed by Sanuk Games ? 
We are indeed licensed on Nintendo DS, Wii, PSP, PS3, Xbox 360 and iPhone. In the past couple of years, our business focus was mostly on work-for-hire on Nintendo DS and Wii for 3rd party publishers. But in 2009, as the demand from publishers fell down, we had to broaden our scope to other platforms and to start publishing our own games. We did so on Playstation Minis, DSiWare, iPhone. Our games are developed in-house, although we sometimes use contractors for certain tasks.
Question 3 – What do you believe have been Sanuk's greatest challenges designing games on all the platforms you currently cover ?
There are issues of various kinds. We create games for Western audiences from an Asian facility; therefore there is a cultural bridge to gap. We port games to multiple platforms with different characteristics and input mechanisms, therefore the functional design must be well thought-out. The biggest challenge, though, when you fund and publish games on your own, is to make the right decisions. You must get a proper vision of where the market is going and what is likely to work. You must assess where your best fit is given your set of skills and the market trends.
Question 4 – What has been Sanuk's most popular game created to date.  How long did it take to develop and if possible could you give us a little rundown on what it's about and on what platform(s) it's on.
I believe that Junior Brain Trainer, an edutainment game for elementary school kids published on Nintendo DS by Avanquest, is our best-seller to date. It has been in the top 20 DS budget games in UK during more than a year! It took something like 5 months to develop. Most of the credit for the success goes to Avanquest's publishing team: they marketed it through the right channels, with the right PR, at the right price.
Question 5 – What engine / technology does Sanuk Games use to create and develop their games.
At this point we mostly use in-house technologies. Each team decides where they start from and what they use. This model works well for casual games with low functional complexity.
Question 6 – For new players not aware of Sanuk Games.  What sort and style of games do you have available for consumers.  Please explain in as much detail the broad range of titles available to consumers.  Are most of the Games created by Sanuk only suitable for a specific age rating or can anyone enjoy playing Sanuk Games.
There's a bit of everything. Edutainment games such as Junior Brain Trainer and Berlitz English, TV show spinoffs such as Ready Steady Cook and Countdown, crossword and Sudoku games with various brands (Telegraph, The Sun, The Times), one pet care game (Dolphin Trainer), one old-school action game (Barnyard Blast), one FMV horror game (Hysteria Project), etc. We are not restricted to any particular age rating.
Question 7 – What were the development teams inspirations behind creating games ?  What other games have played a major role (past and present) in shaping and creating Sanuk Games.
The amount of creativity we inject really depends on the game. Some work-for-hire projects come with thorough specification that leaves no space for extra creativity, while some internally initiated projects have no holds barred! We have been doing so many different things that it would be hard to tell which specific games inspired us.
Question 8 – What is your favourite game out of all the Sanuk Games ever created ?
Barnyard Blast on Nintendo DS may be one of the cheesiest games we've ever released, but also one of the funniest. It has a unique identity and managed to get a (small) fan base on the internet. Unfortunately this enthusiasm failed to reach the general public and translate into a decent sales volume.
Spot The Differences on iPhone and PSP is a very simple game, but it is well executed and addictive. I find myself playing it quite often when I have a couple of minutes to kill on the go.
 Question 9 – What can fans and consumer expect to see in the future in terms of new games made by Sanuk Games.
 Hysteria Project on Playstation Minis is a port of an iPhone game originally developed by Bulkypix. I loved the game on iPhone and I thought it would be a good fit on Playstation Minis. We will certainly do more ports of games from other platforms if we find other good picks: I will tell more as soon as I can.
We are also working on a new project on PS3 with the Playstation Move: I will share details as soon as I can on this as well!
Question 10 – Finally.. What do you love most about working at Sanuk Games ?
Everything! I enjoy working in the game industry and providing entertainment value to consumers. I like working on smaller casual games, where we have more control than on big-budget productions, more diverse experiences and a quicker sense of achievement. I enjoy the quality of life in Thailand, I am pleased to work with skilled and dedicated professionals, and I like the challenge of running a business even when times are tough. One thing I have yet to achieve to a satisfactory level is financial success… but I'm working on it!
Special thanks once again to Yan for taking the time to answer these questions.  We wish Sanuk Game the best of luck and we look forward to sharing with you all their latest creations in the future.
–