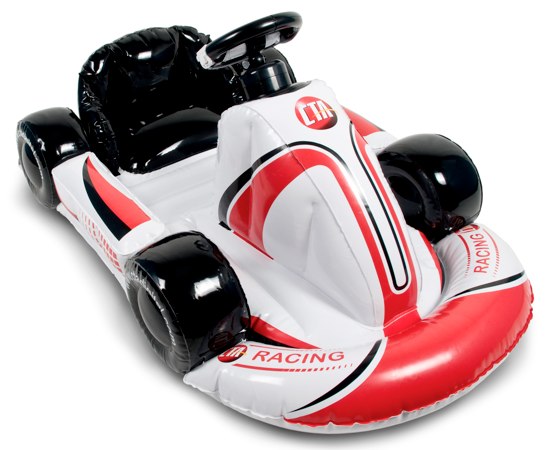 If you thought the Wii Wheel wasn't a good enough peripheral for your Sonic & SEGA All Stars Racing or your Mario Kart Wii games then you are in luck, as this new racing peripheral is definitely going to blow that out of the water. Because it is a fully blown up inflatable race cart with a position in the wheel for the Wiimote.
This is actually an accessory that I'm sure a lot of people would actually enjoy, at least children for the most part. Because if you could choose between a simple wheel and an inflatable car, any 10 year old would choose the car and even some adults I know. If you were to be interested in this car though it'll run you $40 which isn't too steep, but hey at least it is for a good cause.
Turns out that CTA, the company that is making this product, is also promoting Kids Are Heroes which encourages children to take an active part in their community and help others. Bit of a switch that they are encouraging this promotion by using a video game peripheral but either way it's getting the word out.
So what do you guys think? Is this one of the best Wii peripherals out there at the moment? Or have you seen better? There has to be at least a hundred different types of peripherals for the various games that are out now for the Wii.
Source:(Joystiq)