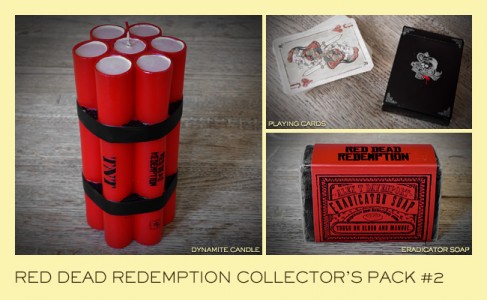 Well, Well, Well what do we have here partner … Rockstar have come up with some Red Dead Redemption collectors packs called the "Finery" Red Dead Redemption – The Frontier Collection.  As you might already know Rockstar released some RDR t-shirts not to long ago and now joining them are some super cool little items.
If you enjoy playing Poker in the game, why not pick yourself up some playing cards that look exactly the same as they do in the game.  Along with them there's DICE, a candle in the shape of TNT and even some soap to wash the grime off your cattle rustling hands
Click on the link here to check out the prices and grab yourself a piece of Red Dead Redemption history before it rolls away quick than a tumbleweed in the wind !!