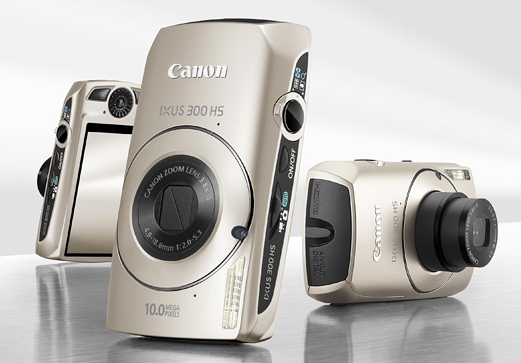 Canon has just released the Digital IXUS 300HS (also known as Powershot SD4000 IS)  ultra compact high performance digital camera. It is a unique IXUS model with a fast f/2.0 aperture at 28m wide (35mm equiv.) and sports manual exposure modes such as shutter / aperture priority . It has all the other latest gizmo's that I've listed below and I don't normally say this for digitcal cameras but the IXUS 300 HS  just looks fantastic! Love the design. Both front and back and all over. Looks very high tech and minimalistic at the same time. I think Canon has a sure winner on their hands with this one.
Main highlights are as follows:
– A new 10MP 1/2.3″ high sensitivity CMOS sensor
– Fast f/2.0 at 28mm (35mm equiv), 3.8x lens with optical Image Stabilizer (28-105mm F2.0-5.3)
– 720p HD H.264 video recording at 30fps with stereo audio and HDMI output
– Super slow motion video recording that records at 240fps and plays back at 30fps (320×240)
– High speed continuous burst photos of 8.4fps at 2.5MP resolution
– New Fish eye effect and tilt/shift miniture effects for enhanced creativity
– Wide 3.0 inch LCD with 230k pixels
I for one love fast/bright lenses. This IXUS 300HS has a very nice f2.0 at a wide angle 28mm focal length. This would be great for indoors as compared to most other similar class cameras, it is at least a full stop faster in aperture. Also, it should be able to produce nicer looking closeups with its shallower depth of field. Looking at some image samples that are available on the Canon USA website, at ISO125, it seems to rival DSLRs with its butter smooth but detailed photos even when viewed at 100%.
720P HD recording is now becoming the standard for most mid-high class digital cameras and the IXUS 300HS doesn't disappoint either. Combined with HDMI output will allow you to simply plug the cable into your TV/Monitor and watch the videos you've recorded in HD quality without any need for a dedicated player or a PC. The 2 new effects that Canon IXUS 300HS includes are quite interesting also as they are not very common and does provide you wil some very unique looking photos as can be seen below.
Canon IXUS 300HS will be available in 4 colours (black, silver, red, white) but this may be different depending on which country you are in. So keep a look out for one as it looks like it'll be one great little compact camera to have in your pocket. It should be available here in Australia by the end of May. Price is yet to be announced.
More information, full technical specs and some sample photos can be found at Canon USA website.