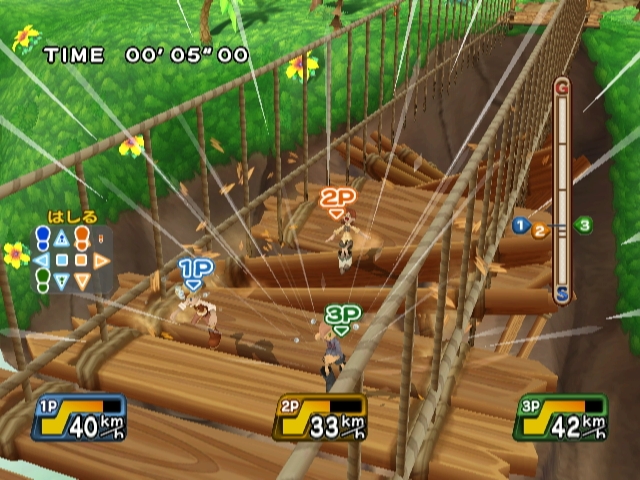 Hey! you on the couch, eating your potato chips and playing halo 3 still. You know what you need? you need to get active and play the upcoming Namco Bandai game for the Wii Active Life Explorer. Don't have a Wii? oh, never mind then, go back to Halo 3. Below is the press release for Active Life Explorer.
~~
Jump into action as a fearless adventurer searching for treasure the world over. Explore an array of intriguing themed locales including dense twilight jungles, ancient ruins, lava-flooded caves, frozen ice packs and more each with their own traps, hazards and challenges. A veritable thrill-ride of activities will keep the whole family moving as they run across falling bridges, dodge perilous booby traps, escape from savage beasts, chase down bandits, and much more as they ride off into the sunset with a bounty of loot and rewards.
ACTIVE LIFE EXPLORER includes dozens of action-packed adventures with support for up to eight players in fun cooperative or competitive challenges with multiple difficulty options to cater to all skill levels. In the multiplayer Party Mode, up to eight players can play in a series of activities that gives everyone a chance to get in on the action. One to four players can play through a Treasure Adventure Mode filled with dozens of missions as they uncover new uncharted lands on a world map. A versatile Free Play Mode offers easy access to individual challenges, while gamers looking for a challenge can put their skills to the test in the Treasure Trials Mode with a variety of objectives to complete. With plenty of rewards such as medals, different outfits for their in-game characters and high score rankings, players will want to play again and again.
"ACTIVE LIFE EXPLORER takes the ACTIVE LIFE series' signature full-body motion gameplay to new frontiers," said Todd Thorson, director of marketing and public relations at NAMCO BANDAI Games America Inc. "With a fresh set of challenges based on exhilarating treasure hunting quests, great escapes and thrill-seeking crusades, the game keeps pulses pounding and offers a fun way to get everyone active."
ACTIVE LIFE EXPLORER for Wii will be available as a bundle including the game and one ACTIVE LIFE Mat Controller, or as a stand-alone game by itself for Active Life fans that already have the Mat Controller. For more information, please visit www.namcobandaigames.com.